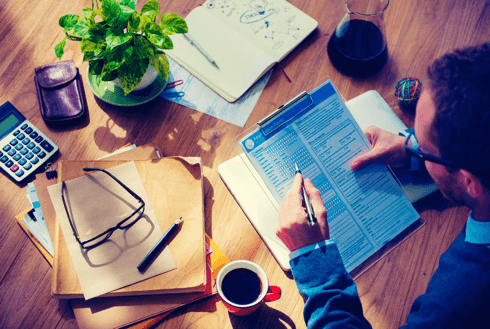 Many digital nomads are taking advantage of their digital status to incorporate a company in a country other than the one they live in. When your business is remote based and you travel all over the globe, why not choose the most favorable country to establish a company in?
Selecting a country for your company is a big decision. You want to find the best option that will grant you the lowest tax rates and allow you to maximize your income without creating too much additional work and adding unnecessary complexities to your business.
The practice of incorporating a company in a different country isn't illegal (although you should follow certain rules based on your country of residence), and is actually a wise business move to make when you aren't restricted to living in and doing business in one country.
Criteria to Consider When Choosing a Country to Incorporate a Company
Before selecting which country you incorporate your company in, there are some very important criteria to consider. You will need to examine your company itself and how you plan on conducting your business as well as the countries you will be involved in. For digital nomads who are experienced in flag theory, look at whether your flags have a relationship with each other before you make a decision on where you will be creating your company.
1. What country are your customers and suppliers in?
In some cases, you are required to pay income tax on the income earned when you are "effectively connected" to the country your customers and suppliers reside in. The US, for example, has this rule and you are required to pay tax on US income regardless of whether you are incorporated there or a resident there.
2. Does the country have CFC rules?
CFC stands for Controlled Foreign Corporation, and refers to a company that is registered in a different country than the one the owners reside in. If the country has CFC rules, the governments will share business and banking information. This can impact your tax liabilities. You ideally want to look for a country that does not have CFC rules.
3. Is there a DTA between the country you are doing business in and the country you are incorporating in?
Look for countries that have a DTA. You want these two flags, your resident country and your company country, to have a Double-Tax Agreement so that you are not going to be taxed twice on your income.
4. Is the country politically and economically stable?
In areas with an unstable government, your accounts could be seized or closed. Look for a country with no political or economic unrest or instability.
5. Does the country allow you to use an established, recognized payment aggregator (Square, Stripe, PayPal)?
Many businesses worldwide feel more comfortable if you use a well-recognized payment processor such as Square, Stripe, or PayPal to handle payments. In some countries these payment aggregators aren't an option and you may need to opt for a local payment processor in your company's country instead. This can impact your business if people are not comfortable with a payment processor they don't recognize or trust. Another disadvantage is that as an offshore company, you may be charged large transaction fees on any payments that you process.
1. Singapore
Pros:
A higher GDP than most other developed countries
No CFC rules
Strong economy
Political stability
Start-ups may be exempt from some taxes for the first three years
No capital gains taxes
Several tax incentives for companies
Cons:
Corporate tax is 17% regardless of the source, if you also do your banking in the country
A local director is required
15% withholding tax rate on interest
10% withholding tax rate on royalties
Work permit required if you are working from Singapore; your salary will also be taxable
How to incorporate in Singapore:
Hire a Singapore company to help you with incorporation paperwork because of Singaporean law
Have a single local resident director and an office space
Register your name with the government
Once approved, the Singapore company you hired will notify you by email
Sign up for GST if you exceed one million in revenue
Take a look at the full process to incorporate a company in Singapore in this and this guides, as well as the Singaporean government resource here.
2. Andorra
Pros:
No local shareholders required
Can be 100% foreign-owned
Set up costs only €3,000
Cons:
Cannot have a completely offshore company; a small office, private apartment, or business center is required
Local employees are highly recommended
Criminal record checks from where you live and where you were born, as well as a notarized copy of your passport
How to incorporate in Andorra:
Reserve a company name
Request authorization from the government for foreign investment
Request a bank account
Incorporate with a notary
Register in the company registry
Reserve your trade name
Register your company in the business registry
Learn more about setting a company in Andorra in this and this guides.
3. Cyprus
Pros:
Tax freedom for income from dividends and interests, including income from the stock market
The residency requirement is two months per year
European country that is legally recognized
The corporate tax rate is 12.5%
Cons:
The economy is highly vulnerable
CFC rules
How to incorporate in Cyprus:
Register your company name
Apply to the central bank
Submit all Articles of Incorporation
Appoint a local director and set up a local office space
See all of the required steps to set a company in Cyprus in this and this guides, as well as government site.
4. Malta
Pros:
The tax rate can potentially be brought down to 5% if you apply for all grants and tax relief programs
Large amount of payment options and banking opportunities as part of the EU
Tax agreements with the EU
Cost to get licensed for a business is the cheapest in the EU and is transferable
Cons:
The tax rate is 35% before any grants or tax relief programs
Having to wait an unknown period of time—sometimes beyond six months—to get your tax return back, or potentially even be denied
Tax returns cannot be made out to the company and instead need to be given to a third party
Has CFC rules
The minimum presence period requires you to be in Malta for 183 days a year
How to incorporate in Malta:
Reserve your company name
Open a local bank account with a minimum balance of €1165
Apply to be incorporated
Get your tax identification number
Get an employer registration number if you will be hiring any employees
Learn more about how to set a business in Malta in this and this guides.
5. Hong Kong
Pros:
Fewer restrictions on foreign businesses than most other countries
Among the lowest tax rates; 8.25% on the first HKD 2,000,000, going up to 16.5% after that
Non-complex tax system
Audit costs are low
No sales tax
No CFC rules
Capital gains and dividends received are usually exempt from being taxed
Selling in China can benefit from the Closer Economic Partnership Agreement that Hong Kong has with China, making it easier to sell goods and services in China
Many payment aggregators, including Stripe and Paypal, are available
Cons:
Can be complex to create bank accounts in Hong Kong
Unless you generate a large amount of income, being a business owner does not grant you any special privileges
Lots of regulations on establishing a company
How to incorporate in Hong Kong:
E-registration is available for company set-up and takes only a couple of hours to get a certificate of incorporation and a business registration certificate
Appoint a company secretary based in Hong Kong and establish an office
See this and this guides to learn more about how to set a company in Hong Kong.
6. Georgia
Pros:
A company can be established in three days
There are few licenses and permissions needed
Withholding tax rate on dividends, interest, and royalties is only 5%
Cons:
Corporate tax rate is 15%
Most banks in Georgia will not be able to keep up if you have an income of over $10 million USD
How to incorporate in Georgia:
Pay a registration fee and register your company; this involves your completed application, proof that you have paid your registration fee, confirmation of your legal occupancy of the premises of your company's registered address, a notarized copy of your company's charter, and the written approval of your appointed director
Open a bank account
Learn more about how to set a company in Georgia in this and this guides.
7. Estonia
Pros:
No tax on any retained profit
Electronic filing with the e-residency card
Agreements with the EU which allow access to payment processors
Reputation as being part of the EU
CFC rules only apply to individuals
Takes about an hour to set up a company with the e-residency program
Cons:
Capital gains, dividends, royalties and interest are considered income and are taxed
Banking can be difficult; you may need to look at other EU countries for banking
How to incorporate in Estonia:
Submit your application for your digital ID
Obtain a legal address and choose an Estonian contact person
Register your company
Apply for company banking
You can do it all online through the Estonian e-Residence program here.
The best countries to incorporate a company as a digital nomad will depend on a number of factors, including your country of residence, the nature of your business, and where your customers reside. Each option has its advantages and disadvantages that may impact your decision, and the process can be highly facilitated by hiring a business focused lawyer and tax advisors to help with the process.
If you found this article useful you might want to take a look at: