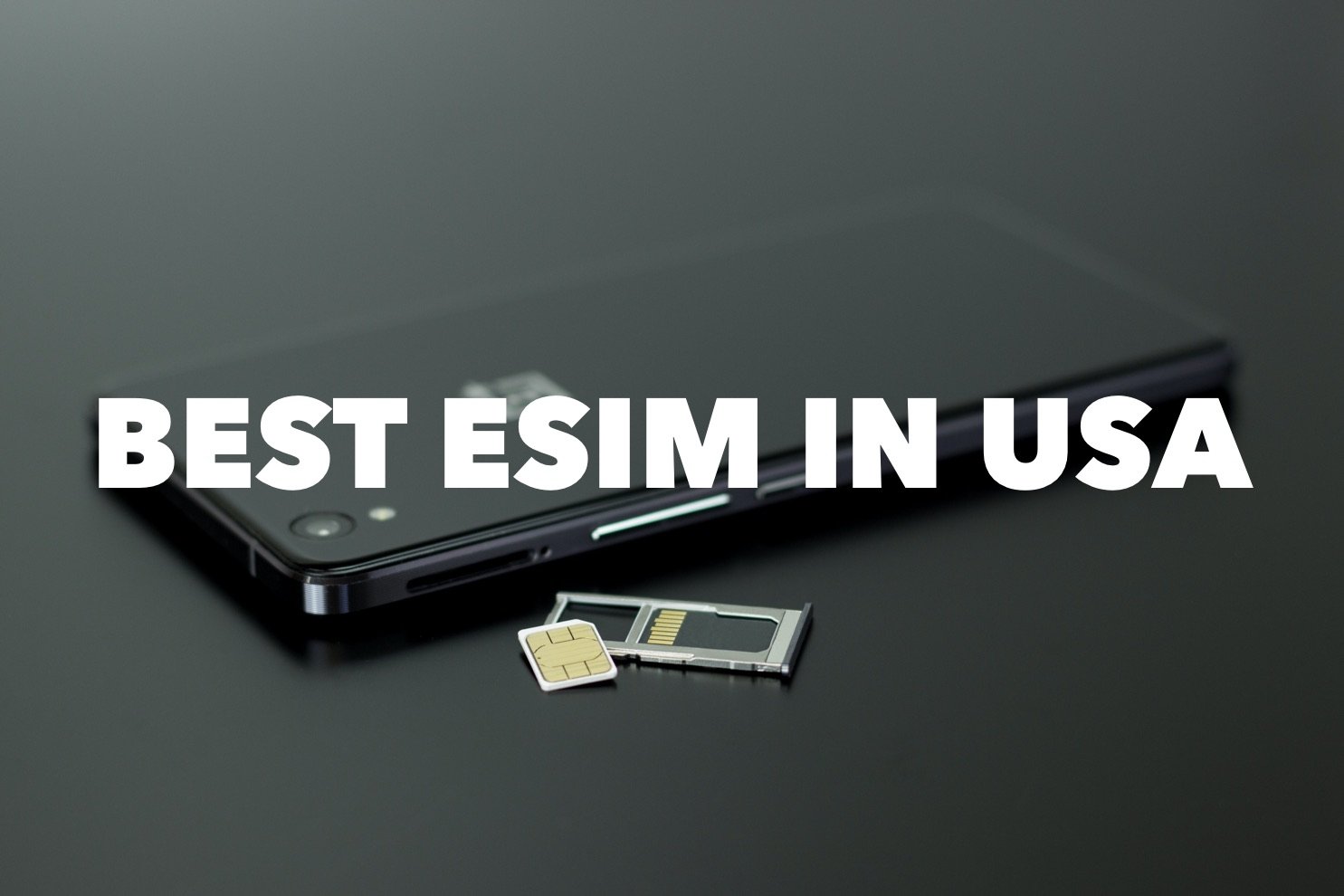 Embedded SIM cards (or eSIM cards for short) are revolutionary tools that make traveling to other countries — including the United States — much easier and less stressful.
Are you interested in using an eSIM card? Are you looking for the best prepaid eSIM card with data plans for traveling and working in the USA? If so, you're in the right place.
Discover everything you need to know (including the best eSIM card options) below.
What Is an eSIM Card with Data Plan?
An eSIM card is a digital version of a SIM (Subscriber Identity Module) card. It allows users to change their wireless carrier, data plan, or service plan with software. In many cases, you can also use multiple phone lines on one device.
There's no need to go to a store and get a new SIM card or wait for a new one to arrive in the mail (and then struggle to insert it correctly into your phone). Instead, you can simply visit an online menu and take a photo of a QR code to change carriers or plans on the go.
eSIM data plans are prepaid, data-only plans that are downloaded directly to your device. They provide access to local data services (available at local prices). They also allow you to avoid international roaming fees, which provide telecommunications providers with billions of extra dollars each year.
Benefits of eSIM Cards with Data Plans
eSIM cards with data plans are convenient for travelers (especially those visiting other countries). However, others can also benefit from them, including those who fall into these groups:
People wanting a second phone line: If you have a Dual SIM with an eSIM, you can have multiple phone lines (such as a work line and a personal line) available on one device.
People wanting cheap data: If you're tired of paying an arm and a leg for data, an eSIM card with a data plan can reduce costs while still allowing you to stay connected.
People needing short-term plans: A prepaid plan with a physical SIM card typically requires paying for an entire month of service. If you only need service for a week or two, you get more flexibility (and save money) with an eSIM card with a data plan.
eSIM cards are also more secure than traditional SIM cards. They can't be stolen (without taking your entire phone) because they're hardwired into the device itself.
Thieves sometimes swap stolen SIM cards to access someone's calls or texts. They may also reset credentials to access bank accounts, social media accounts, and other sensitive information.
With an eSIM card, the chances of these issues happening are slim, providing you with greater peace of mind while traveling.
What to Look for When Buying an eSIM Card with Data Plan?
If you're intrigued by the benefits of an eSIM card with a data plan but aren't sure which one to choose, it helps to take a step back and identify the most critical characteristics to look for.
Here are some of the top factors to consider when weighing your options:
Quality of Service
Quality of service includes the service's speed, latency (the time it takes for your phone to send a message and receive a response), and coverage. Quality of service is determined by the cellular network (or networks) behind the eSIM card.
Generally, eSIM card providers share information about their carrier networks. Do some additional research to determine which networks have the best reputation and will provide the best service.
Locality
Next, consider the locality. eSIMs, like other digital products or services, are provided almost exclusively online through local or international providers. When choosing an eSIM card, decide whether you want to work with a local or international provider.
Local providers are typically better for regular subscriptions because they're aware of local laws and regulations (including those around data security and consumer privacy). However, an eSIM card from an international provider would likely be a better choice if you're traveling internationally.
User Support
Many people find eSIM relatively easy to activate and use. However, others need additional support to get their eSIM cards up and running.
If you're not particularly tech-savvy, or if you're new to the eSIM card world and want some extra assistance, be sure to choose a provider with a robust customer support network.
Check out online reviews and comments to see what past and current users have to say about a particular provider.
Was it easy to contact customer support when they needed help? Did they get precise and actionable answers to their questions?
Price
Finally, don't forget to look at the prices of different eSIM cards before deciding. Prices vary depending on the amount of data you want (1GB, 5GB, 10GB, etc.) and the plan length (one week, two weeks, etc.).
Consider the sticker price when comparing different eSIM cards with data plans, but don't stop there. Pay attention to what you get in exchange for that amount (for example, it might be worth it to spend more money to acquire additional data).
Keep in mind, too, that price isn't everything. The cheapest eSIM card is rarely the best eSIM card. Address the abovementioned factors first, then look for the best price.
Best eSIM Cards with Data Plans for USA Travel and Work
If you're looking for eSIM cards with data plans that check all the boxes listed above, here are five options to check out:
Airalo touts itself as the world's first eSIM store designed to solve the issue of high roaming bills. The company's eSIM cards can be downloaded and installed from over 200 countries and regions and connected anywhere in the world as soon as you land.
Airalo was founded in 2019 by Abraham Burak and Ahmet Bahadır Özdemir. It serves over one million users (as of August 2022) in 200-plus countries and regions, including the United States, Japan, Costa Rica, the United Kingdom, and Israel.
For those who want to use Airalo for their international travels, it takes just four steps to get started:
Download the Airalo app (available on Android and iOS devices)
Choose your destination and package
Install your eSIM card
Activate your eSIM card
If you're traveling to the United States, you can choose from the following Airalo plans:
1 GB of data, valid for 7 days, $4.50 (USD)
2 GB of data, valid for 15 days, $8 (USD)
3 GB of data, valid for 30 days, $11 (USD)
5 GB of data, valid for 30 days, $16 (USD)
10 GB of data, valid for 30 days, $26 (USD)
20 GB of data, valid for 30 days, $42 (USD)
These data-only plans work on Verizon and T-Mobile 5G networks. All users have access to 24/7 support, too.
Holafly is an international eSIM card shop serving over half a million customers in more than 160 destinations worldwide. It boasts an easy setup process (just one minute to purchase and configure your eSIM card) and offers a reliable 4G connection.
Holafly is available for iOS and Android devices and can be installed by scanning a QR code or manually entering an installation code. Whichever option you choose, you can reach Holafly's support staff 24/7 if you run into issues.
Holafly offers several data plans for people traveling to the United States, including the following:
5 days, unlimited data, $19 (USD)
7 days, unlimited data, $27 (USD)
10 days, unlimited data, $34 (USD)
15 days, unlimited data, $47 (USD)
20 days, unlimited data, $54 (USD)
30 days, unlimited data, $64 (USD)
60 days, unlimited data, $84 (USD)
90 days, unlimited data, $99 (USD)
These plans work on the AT&T and T-Mobile networks. They're a bit more expensive than the Airalo plans, but they also offer unlimited data, which is a perk for many international travelers.
SimOptions claims to offer the best mobile operators and market prices with worldwide delivery and 24/7 customer service. The company provides eSIMS for over 180 travel destinations worldwide and allows users to save 100 percent on roaming charges.
With a SimOptions eSIM card, you can easily purchase your eSIM card and have it delivered instantly via email. From here, simply scan the QR code, add the eSIM to your smartphone (SimOptions cards work on iOS and Android devices), and enjoy mobile internet access within minutes.
SimOptions offers the following eSIM card plans for U.S. travelers:
Go USA: 1 GB of data, valid for 30 days, $9.90 (USD)
Smart Traveller eSIM: 6 GB of data, valid for 10 days, $17.90 (USD)
30-Day Pass 10GB: 10 GB of data, valid for 30 days, $24.90 (USD)
30-Day Pass 20GB: 20 GB of data, valid for 30 days, $34.90 (USD)
eSIM2FLY Global: 6 GB of data, valid for 15 days, $39.90 (USD)
None of these plans include phone calls or SMS messaging (but you can use WhatsApp or Skype to connect with contacts).
Nomad provides travelers with prepaid data plans in over 100 countries at local rates.
Like the other eSIM card data plans mentioned in this guide, the Nomad app (and eSIM cards) is accessible on iOS and Android devices. What separates it from other options, though, is the unique social aspect.
After downloading the app, users can create an interest-based travel profile and receive personalized insights from people whose traveling style matches theirs. They can also earn badges like "Food Critic," "Photo Journalist," and "Nomad Traveler."
Nomad offers one of the most diverse collections of data plans available on AT&T and T-Mobile Networks.
Pricing for T-Mobile plans is as follows:
1 GB, valid for 7 days, $4 (USD)
3 GB, valid for 15 days, $10 (USD)
5 GB, valid for 15 days, $14 (USD)
10 GB, valid for 30 days, $24 (USD)
12 GB, valid for 30 days, $26 (USD)
15 GB, valid for 30 days, $30 (USD)
20 GB, valid for 30 days, $34 (USD)
30 GB, valid for 30 days, $50 (USD)
40 GB, valid for 30 days, $65 (USD)
50 GB, valid for 30 days, $80 (USD)
100 GB, valid for 60 days, $240 (USD)
Here are the pricing details for AT&T plans:
1 GB, valid for 7 days, $6 (USD)
3 GB, valid for 15 days, $14 (USD)
5 GB, valid for 15 days, $21 (USD)
10 GB, valid for 30 days, $39 (USD)
15 GB, valid for 30 days, $49 (USD)
Nomad promises that the prices of their data plans are similar to local fees.
Ubigi claims to allow users to travel worldwide and enjoy the best prices for mobile data. The company currently serves travelers in over 190 countries across the globe.
Ubigi also offers a simple, straightforward setup process:
Download the app or scan a QR code
Create an account by filling out just five simple fields
Add a data plan
eSIM cards from Ubigi work on Windows 10 and iOS devices. If you're interested in a Ubigi data plan while traveling to the United States, you can choose from one-off, monthly, and annual options, making it easy to find a plan that suits your budget and travel style.
One-off plans range from $2.90 (USD) for a one-day, 500 MB plan to $200 (USD) for a 30-day, 200 GB plan.
Monthly plans start at $11 (USD) per month for 5 GB of data and go up to $68 (USD) per month for 5 GB of data that can be used worldwide (including in the United States).
An annual plan costs $68 annually and provides 2 GB of data per month.
All plans work on the T-Mobile network.
Choose the Best eSIM Card with Data Plan Today
Investing in an eSIM card with a data plan is an excellent way to increase your availability and save money while working or traveling in the United States (or anywhere else in the world).
Are you ready to choose an eSIM card? If so, check out the eSIM card providers discussed above.
You'll have no trouble remaining accessible and staying within your budget if you go with any of these options.
If you found this article useful you might also like:
Disclosure: Any of the links on Remoters.net are affiliate links from which we receive a commission from sales of certain items. We also participate in the Amazon Services LLC Associates Program, an affiliate advertising program designed to provide a means for sites to earn advertising fees by advertising and linking to amazon.com or endless.com, myhabit.com, smallparts.com, or amazonwireless.com.