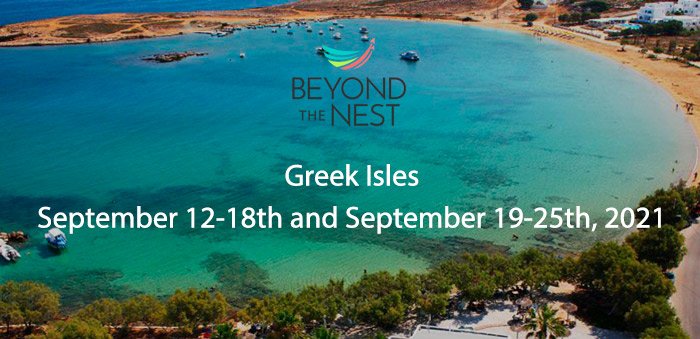 Name: Beyond the Nest: Greek Isles
Web: https://www.beyondthenest.org/
Type: Conference
Location: Paros, Greece
Price: $4000 US Dollars
Organizer: Beyond the Nest
Language: English
Dates:
Trip 1: September 12-18th, 2021
Trip 2: September 19-25th, 2021
A description of your event:
Join our experiential retreat on the beautiful island of Paros, Greece.
For these two weeks, our growth themes will be "Flying the Coop" for Week 1 and "You are a Magnet: The Science of Manifestation & Goal Setting" for Week 2. Please see Themes to learn more about how these overarching growth goals are interwoven into our days of island hopping, sunset happy hours, beach yoga, and more!
Transfers, lodging, chef-prepared meals, activities, all included in one price! Bring a friend or partner and save!
No reviews yet.
Please add your comment sharing more about why you would recommend this event or not and how could it be better?
Other similar events in Retreats
| Event | | Description |
| --- | --- | --- |
| | Camp Indie | Camp Indie is a once-a-year gathering where unconventional thinkers, freedom seekers, and nonconformists can experiment... |
| | Beyond the Nest: San Miguel de Allende | An intimate retreat where we pose our community with the question we will work together... |
| | Orange Camp in Morocco | If you work remotely, want to travel, and enjoy life - then our digital nomads... |
| | Borderless Retreat #13 | Curated coliving program for remote workers and nomads that focuses on Mindfulness, Personal Growth, and... |
| | Borderless Retreat #11 | Borderless Retreat is creating another edition in Madeira! In the sunny side of the island... |