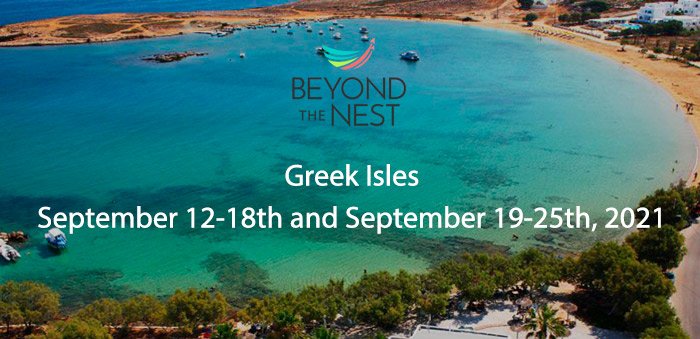 Name: Beyond the Nest: Greek Isles
Web: https://www.beyondthenest.org/
Type: Conference
Location: Paros, Greece
Price: Single:  $3995 / Double:  $5990 for TWO
Organizer: Beyond the Nest
Language: English
Dates:
Trip 1: September 12-18th, 2021
Trip 2: September 19-25th, 2021
A description of your event:
Join our experiential retreat on the beautiful island of Paros, Greece.
For these two weeks, our growth themes will be "Flying the Coop" for Week 1 and "You are a Magnet: The Science of Manifestation & Goal Setting" for Week 2. Please see Themes to learn more about how these overarching growth goals are interwoven into our days of island hopping, sunset happy hours, beach yoga, and more!
Transfers, lodging, chef-prepared meals, activities, all included in one price! Bring a friend or partner and save!
THEMES INFO
1. You Are a Magnet- The Science of Manifestation and Goal Setting
"All that we are is a result of what we have thought" – Buddha
Manifestation is the practice of harnessing the real and constant vibrations of the universe to attract into your life that which you desire most. Through deep understanding of the neurological science behind manifestation, continued inner-voice training, and skillful goal setting, we will equip you with the skills and power you need to manifest transformation.
During this prolific week together we examine what you have been attracting into your life and how it has led to where you are now. Together we will uncover the layers of your vibrational frequency and give you the foundations for altering your thoughts and life radically.
For some, attracting career opportunities, love, and better health may be top priorities. For others, it may involve deeper work to 'de-program' the mind of its tendency toward negative and fixating thoughts.
Get ready for an intimate group ready to embark on a journey of adventure and self-exploration. Get ready to become friends with your brain and retrain your thinking. Watch as the universe responds in kind to the positive vibration you emit through being your happiest self.
2. "WFH to WFA – Work-from-Home to Work-from-Anywhere"
Are you newly working from home? Have you been remote for years? Are you looking to find a new job that will grant you a location independent lifestyle?
WFH to WFA is a retreat designed specifically to meet you exactly where you are in your remote journey. Whether you're already an established nomadic entrepreneur or beginning to forge your own path toward remote working, this retreat is for you!
You can look forward to tailored workshops based on our group's specific interests to get the ball rolling and stoke the inner fire you need to build a life you love. Studies have shown that remote employees excel when connected to a supportive community and that continuing education during your remote journey is key to your success.
WFH to WFA will provide a co-working space on-location, daily & evening workshops to develop skills that the group has selected, a daily exploration of local culture, outdoor adventures, & wellness activities.
VILLA & LOCATION
No reviews yet.
Please add your comment sharing more about why you would recommend this event or not and how could it be better?