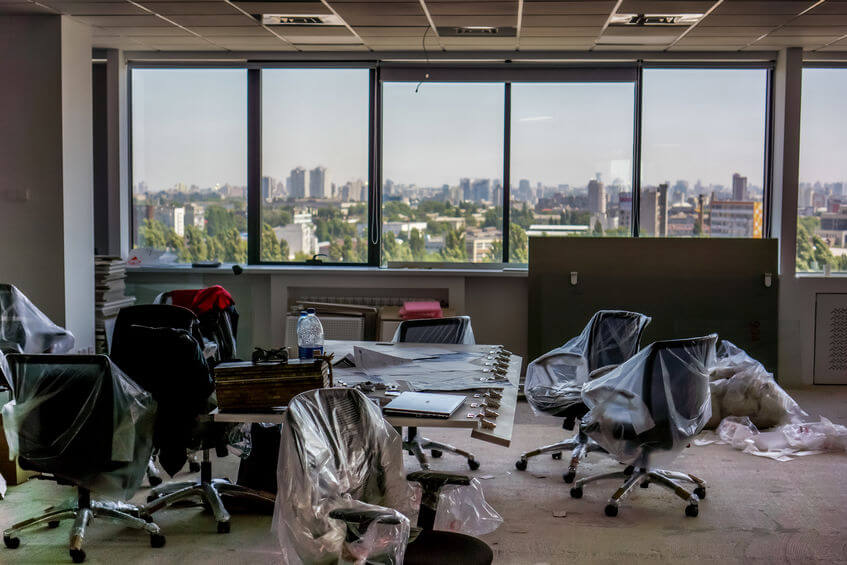 [Published on May 13th, Updated on May 21st, 2020]
Remote work has been already growing at a fast pace for the past few years. When asked last year, about 74% of the workforce said they would prefer to quit a job for one that offers remote positions.
Despite this there were still companies who didn't believe in remote work in most cases for one simple reason: they thought doing it so would still bring them more challenges -with coordination, communication, productivity added complexities- than potential benefits.
As shared in our Remote Work Trends for 2020, published at the start of the year, we expected that these and other remote work challenges would continue to be addressed as "office oriented" companies started to see themselves more in disadvantage vs. remote ones by limiting themselves to a local pool of talent, high office rent expenses in big cities and less motivated workforce due to poorer flexibility and work-life balance -losing them at some point to remote organizations-.
However, all this has been accelerated in a way that I would have never thought 3 months ago by the least expected reason: a global pandemic.
The Coronavirus/Covid-19 global pandemic has made all of us to go through a period of confinement (an extreme lockdown in many cases) that has greatly accelerated the adoption of new business and work models that had already started to shift since a few years ago, like online education, fitness training, health advice, e-commerce, and … remote work.
With companies around the world being forced to work from home due to lockdowns, the biggest remote work shift in history started, and Google searches about "work from home" or "remote work" increased a 3X YoY in March and April.
Many excellent resources were published in record time to help organizations and professionals that were just starting to work remotely to do so in a successful way.
We also published our own, The New Work From Home Worker Checklist; free online events were held sharing actionable and fantastic remote work advice, like Remote Aid and the Remote Work Summit, and Zoom became overnight the most downloaded app and the most popular platform to communicate, socialize and learn for many of us.
The challenges of the sudden WFH shift during a Pandemic
However, as a remote work advocate, I was concerned by the less than ideal scenario in which the biggest remote work shift  was happening due to:
I thought these two factors could end up backlashing with potential bad initial work from home experiences (that could have been completely different if would have happened in different circumstances) and I was afraid that they could be also used as an excuse later on to avoid further remote work initiatives in organizations that had been already reluctant to it.
Thankfully, I quickly found that the above mentioned wealth of remote work resources for "newcomers" as well as the special offers and discounts for communication, collaborations and productivity oriented tools greatly helped mitigate these challenges.
The second challenge was also tackled thanks to experienced remote work professionals being vocal about how they were also having a hard time, explaining this was not the "usual" remote work experience, but one happening during extraordinary and particularly stressful circumstances that would highly limit and negatively influence the experience, for which useful advice was also shared.
For example, in Remoters we published articles about the different challenging scenarios that were specifically found during this time:
The Work from Home lockdown experience 
Thanks to these types of resources, as well as the amazing capacity of humans to evolve in new circumstances and the obvious benefits of remote work, the WFH experience across organizations during the lockdown, despite the challenges, definitely looked to be far more positive than negative, as after a few weeks, you could see comments like the one below over twitter, sharing how organizations that had been until then working from an office had decided to switch to a remote setting:
CEOs who hadn't previously embraced remote work, also started to share how their views about remote work had been changed after a few weeks and how some were already looking to do a permanent shift to avoid paying the sometimes non-trivial office rents in big cities:
Zillow, the top online real estate destination in the US, was one of the first to share that they had decided to maintain the work-from-home policy until the end of 2020.
In early April Gartner surveyed 317 CFOs and financial leaders and the results were an outstanding proof of how the lockdown will impact the future of employment: 74% of CFOs said that they're planning on moving at least 5% of their in-house team to permanently remote positions after quarantine is over.
IBM also conducted a survey and, after questioning 25,000 Americans, concluding that 54% of them would like to work remotely full time, while 75% would like to have the option to do it occasionally.
After seeing this, in mid-April I decided to run a poll to ask "Has the lockdown Work from Home experience made you want to switch to a remote work setting?", clarifying how "Remote work doesn't mean working from home. Remote -in regular, not lockdown circumstances- means working wherever you prefer: home, coworking, coffee shop, etc. having the control of your location, doing it so where you feel more comfortable", as still today  some haven't realized that the whole point of "remote work" is not being tied to a specific location to work.
As can be seen below I got 1,255 answers, with 32.3% positive "Yes! I love remote now", 22.9% being negative "No! I'll stay in-office", 26.3% saying that they were already remote and 18.5% just wanting to see the answers (many curious people out there)!
When sharing the poll I also started to get more in-depth answers, particularly, from remote "first time" employees who mentioned how in some cases their lockdown WFH experience had reassured what they had suspected for a long time, that remote could benefit their "work life" balance, and how in some cases, their views had also been positively changed regarding remote work:
I also got replies from decision makers I directly knew, like Ross Tavendale, MD at Type A Media, a London based digital marketing agency who had just decided they would switch to a remote based setting:
"I think we are going to move remote too – quality of life is so much better. It took about 2 weeks to adjust now I think I'd really miss WFH. I've totally remodelled my apartment to have a separate "office space". Waiting on a chair and proper desk and I am good to go. The team are really liking it too. Harder for some of the people who live in a shared space but I can literally give everyone $1000 to buy stuff to make their setup better and I still save money as I'm not paying ridiculous London rents."
Let's remember that Global Workplace Analytics reports an average savings of $11,000 per part-time role that is converted from physical to virtual, so besides opening your company to hire from a global pool talent, saving your employees from long commutes, you'll also at the same time be saving non-trivial rent related money that can be invested otherwise.
However, this was still mid-April, so I decided to wait a few more weeks to see the stance of industry leaders regarding their future, at some point this month they should start to inform how they would move forward to work after the lockdown: Were they going to move back to the office as usual (maybe with more restrictions to give more space between people?) or if they were willing now to move a remote friendly or even first setting.
What to expect when the lockdown ends: A remote new normal
When May started it became more obvious that the new normal meant a remote boom post-Coronavirus.
Hubertus Heil, the German Labour Minister, said he was working on a legislation that will give employees the right to WFH: "Everyone who wants to and whose workplace allows it should be able to work in a home office – even when the coronavirus pandemic is over..".
Leaders of traditional, non-tech companies such as those of the financial sector, in which remote work had previously been a huge no-no, started to share their positive experience with remote work and how they didn't expected that things would be back as the used to when the lockdown finishes:
Having about 70,000 of Barclays' staff worldwide working from home due to the lockdown has also made Jes Staley (CEO), to re-evaluate "how much office space it needed, as it was now being run by staff working 'from their kitchens'…". In an interview shared published by BBC he mentioned that:
"There will be a long-term adjustment to our location strategy,.. The notion of putting 7,000 people in the building may be a thing of the past."
Announcements were then started to be made that big tech companies leaders, would extend their work from home policies well after the lockdown finished:
Microsoft told employees that they could keep working from home through October and Google announced that the majority of its employees would work from home until 2021.
On May 12, something even bigger happened yesterday, when Twitter CEO, Jack Dorsey sent an email to employees saying that they'd be allowed to work from home permanently:
"Dorsey had announced the company's intent to work in a "distributed" way before the virus, but the pandemic forced the company to move the timeline up."
It's also important to note how due to this permanent move, Twitter has also upped its allowance for work from home supplies to US$1,000 for all employees.
I expected a few more of these types of announcements and measures towards remote work to continue happening in the following weeks.. and it happened: On May 21st Facebook then announced that it would permanently shift a high share of its workforce to become remote:
"We're going to be the most forward-leaning company on remote work at our scale," CEO Mark Zuckerberg said in an interview with The Verge. "We need to do this in a way that's thoughtful and responsible, so we're going to do this in a measured way. But I think that it's possible that over the next five to 10 years — maybe closer to 10 than five, but somewhere in that range — I think we could get to about half of the company working remotely permanently."
That same day the CEO of Shopify, Tobi Lutke announced in a tweet thread that the company would keep the offices closed until 2021 and that after that most people would then keep working remotely, saying that "office centricity" is ove and that they would be able now to hire people from anywhere in the world thanks to that.
This is a natural shift, especially after analyzing what going back to the office entails, since the office experience won't be the same as before, at least until a vaccine is found and sold, as safety measures will need to be implemented in the workplace, that can be challenging for organizations that were used to have dozens or hundreds of employees working in open floor offices, in which drastic changes will be needed, that can easily become even more problematic -and require more investment- than the initial quick WFH shift.
Salesforce CEO Marc Benioff told ABC News:
"When we go back to work in a few weeks, the virus is still going to be there. So we need to be thinking about what kind of things are we going to be doing to keep ourselves from the virus, or what kind of things can we do to take action to keep our workplaces safe…When we go back to the workforce, I don't think we're going to be coming back with as much commercial real estate as when we left. And certainly, when we come back into our office, we're not going to be sitting side-by-side next to each other either. "
This is why Salesforce is now building a new platform called Work.com, to help businesses implement new Coronavirus safety measures like social distancing and contact tracing.
At this point it's clear that the lockdown has had a positive impact on how many CEOs, business owners and employees look at remote work and that after the initial WFH shift during the lockdown, many organizations won't go back to work at the office as they used to be.
Additionally, even if the lockdown WFH experience doesn't mean a shift to remote work, it has certainly allowed companies to see how things can be effectively done otherwise, and become more flexible about remote work. This is not only true for big tech companies, but small and mid sized organizations, especially those already working in the digital or tech oriented sectors.
Sean Butcher, the COO at Blue Array a UK digital marketing agency, shared his experience:
"At Blue Array we have a team of 40 working from an office in Reading. The change was sudden, yet one we all felt surprisingly prepared for. We tested out a 'work from home' day the week prior to lock-down in anticipation of needing to close the office, and this went very well, which eased our initial concerns.

We worried about the impact on collaboration, which we get in abundance being together in an office, as well as whether feelings of isolation would have an impact on the mental health of our staff. However, we have managed this successfully by promoting frequent communication – both from the leadership team but also within teams, as well as various social channels including a constantly-open 'Kitchen hangout' and regular quiz and online-pub evenings.

Overall the team have adapted very well to the change, and actually, many report that their productivity levels have increased as a result of fewer distractions they'd get in an office environment.

I certainly think this experience has emphasised the need to focus on outputs in the future, rather than needing to work certain hours. It's very easy in an office environment to erode into your work-life balance and not necessarily work as productively as you could. If more can get done with less time it's a win-win for everyone.

Whilst I don't think we'll get rid of the office any time soon, I do think we'll be more open and flexible to our team working from home when they want to, knowing that it can work without any major impact our ability to communicate with each other and deliver for our clients."
For those companies that had previously started to test a remote work setting, this WFH time also became particularly valuable to "test" what is doable for them as an organization, the right balance and better envision their "work model" future.
Kevin Gibbons, Founder and CEO of Re:Signal, shared a few learnings:
…Covid-19 has been an interesting experiment. In many ways it's reinforced ideas, and has triggered my thinking a little towards what that new/next normal looks like:

Culture – I find face-to-face time helps to collaborate and build rapport, plus quickly understand the general feeling of the team. That said having virtual scrums + weekly lunch and learns, company updates and Friday team drinks have made this more structured, where in the past we could have more easily skipped these through busy diaries.
Mindfulness – I think it's beneficial for the teams own wellbeing to separate work and life, an office space and spending time with colleagues can help facilitate this. That said it's also important not to be squashed in someone's armpit at rush hour on the tube each morning/evening…
Focus – an office isn't where I do my best work. It's useful to work together with the team, but for individual tasks, I can only really hit that flow state working solo. This has made me think about how I can use future office time most effectively to be more present / help the team, but separate time when it's not essential.
Time-split – we've ran 1 WFH day a week for the last 3 years, which worked well to block out distractions as a no meeting day, and expanded to 2 days at the end of last year (I felt like that was a good split). This situation does give me more confidence in being able to travel and work remotely for more extended periods in future, which is an appealing option.
Learning – I've found this has helped to have extra time available to learn, innovate and create (thought leadership). I'm normally at my best doing these things, but it's the non-urgent / important quadrant which can easily be overlooked. I definitely want to protect that time/environment in the future.

Conclusion: the key for me is balance. Everyone is different, and we now know what both ends of the scale look like. I think it's fair to say the 9-5.30, 5x days a week in the office is dead, the future may involve an office hub, or more collaborative co-working spaces to meet in – but I wouldn't want to totally lose that either.
I completely agree with Kevin that the key is balance, and that every company (and human) are different. Which is the beauty of remote: the flexibility that comes from it, the realization that "work" is not a place, allowing people to work from wherever they feel they're more productive and happier.
It's also important to note that if you're one of those companies that have decided to embrace remote work after the lockdown, then additional efforts should be put to set clear remote work protocols, guidelines, and resources to give systematic and scalable support to your team (beyond the ones that you have likely already quickly started for the "temporary wfh setting") with a remote first approach, to make it effective for everybody in your organization in the long run.
As Gareth Hoyle, Managing Director of Marketing Signals, a digital marketing agency told me:
"I can't imagine my team going back to the office like we used to. I like this remoting for the whole team 🙂"
I can't also imagine that, Gareth, and the more I see, I can confirm that many also can't.
Let's welcome the remote new normal.
---
Are you looking for remote work resources?
If you're an individual or organization looking to start working remotely or facilitate your remote work journey, take a look at our Website resources:
Do you want to see how remote work has evolved over time? Check out the previous remote work trends editions:
---
This article was written by Aleyda Solis, a remote based SEO consultant, speaker and author, founder of Orainti and co-founder of remoters.net, who started working remotely still as an employee back in 2012. Besides her own site and remoters.net, you can find her in Twitter and LinkedIn.
---