CUASIA: Coworking Unconference Asia 2022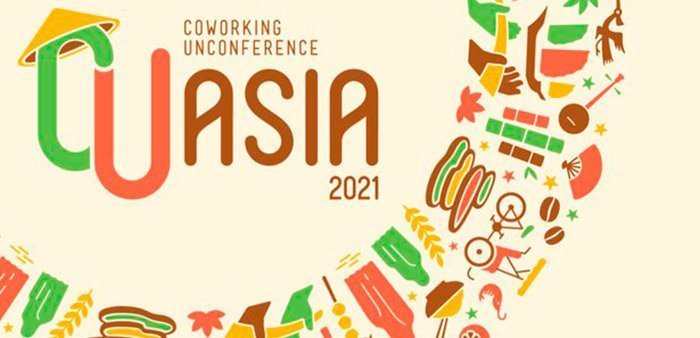 Location: Bali.
Dates: CU Asia 2021 is cancelled
Price: Pending.
Organized by: CU Asia.
Language: English.
WEB: https://cuasia.co/
Conference Themes 2021
COWORKING: FROM WINTER TO SPRING
Covid-19 has been devastating to coworking spaces in the short term…but Spring is coming. Demand for local, flexible offices is poised to explode as people emerge from confinement, and we need to be ready. Everything from health and safety, new revenue models and business generation, and tech enabled connection are on the table.
COLIVING: BUILDING BETTER COMMUNITIES
Coliving is emerging as legitimate challenger to traditional residential models in the same way coworking did to office space a decade ago. This push comes from the same two factors: a desire to feel more connected, and to access exceptional locations at affordable rates. Asia is break new ground in this sector.
COGIVING: SYSTEMS FOR SOCIAL IMPACT
What can coworking do for the world? CU Asia creates space for changemakers to come together at an industry level to see how we can leverage our ecosystems to make positive and significant impact in our communities. Please see last years Coworking Manifesto to see the work of the 2020 edition to create a framework for local action.
TECHNOLOGY: LEVERAGING FOR COMMUNITY
Covid-19 has forced us all to be a lot more creative in exploring the links between technology and community. New forms of online gatherings, communications and culture creation have emerged in the past few months out of necessity. Many of you have been leading the way on this, and CU Asia will be diving into this in Vietnam.
Past Editions
CU Asia 2020. Coworking Unconference ASIA 2019. Bali, Indonesia. 2020 – March-05-07.

Themes 2020

COWORKING: THE FUTURE OF WORK
COLIVING: BUILDING BETTER COMMUNITIES
COGIVING: SYSTEMS FOR SOCIAL IMPACT
COLEARNING: SHARING SKILLS & INSIGHTS

CU Asia 2019. Coworking Unconference ASIA 2019. Goa, India. 2019-February-20-24.

Schedule 2019

20 FEB, 2019 (Wednesday)Spotlight India: A day to celebrate, showcase and explore the Indian coworking and startup ecosystem and connect it directly with global partners. Meet your fellow coworkers, listen to true stories, share differences and similarities and be part of a growing country tribe.21 FEB, 2019 (Thursday). Coworking Academy: This full-day, pre-event workshop is designed to help new or prospective spaces accelerate their learning on the Big 4 of Coworking: Community, Finance, Operations, and Programming/Events.
22 FEB, 2019 (Friday). CU Asia Day 1 – Keynotes & Panels: The first day of the main event! Hear from coworking leaders and adjacent industries about how and why coworking is helping people live, work and learn differently in the new collaborative economy.
23 FEB, 2019 (Saturday). CU Asia Day 2 – The Unconference: They say decisions are made by the people who show up, and an unconference is no exception. It is the ultimate adventure in emergent, topical, cutting-edge, talk-about-what-really-matters-to-you discussion!
24 FEB, 2019 (Sunday). Goa Excursions: You'll figure out why the world calls Goa the 'Rome of the East'.

2018. Penang, Malaysia. 9th – 11st February 2018.
2017. Chiang Mai, Thailand. 10th – 12nd February 2017.
2016. Ubud, Bali. 26th –

28th 

February 2016.
2015. Ubud, Bali. 30 – 31 January 2015.
No reviews yet.
Please add your comment sharing more about why you would recommend this event or not and how could it be better?
Other similar events in Conferences
| Event | | Description |
| --- | --- | --- |
| | Freedom Business Summit 2022 | Join us for two powerful days to learn the best strategies about getting second citizenship,... |
| | 7in7 Digital Nomad Conference | Seven conferences over seven years to figure out the digital nomad life. This is Year... |
| | Bansko Nomad Fest 2022 | Bansko Nomad Fest 2022 is an annual event that brings together hundreds of digital nomads... |
| | Empire Retreat | An intensive coaching with Veronica, attendees will walk away with a customized toolkit enabling them... |
| | Running Remote 2022 | Running Remote is the world's largest conference on building remote teams. In the 5th year,... |