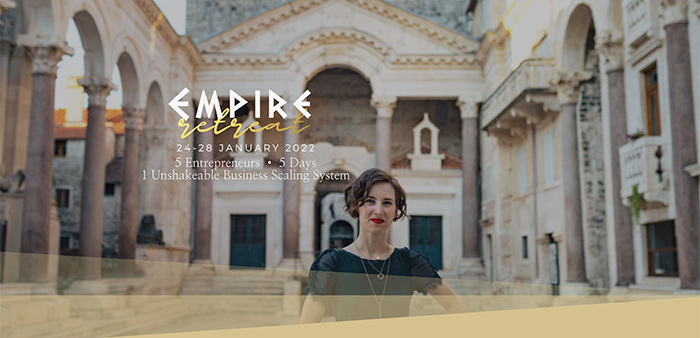 Website: https://veronicakirin.com/empire-retreat
Type: Conference
Location: Grabovčeva širina 1, 21000, Split, Croatia
Starting date: 2022-05-23
End date: 2022-05-27
Price: 2500 US$ Dollars
Organizer: Veronica Kirin
Language: English
Description:
Empire Builder Coaching, led by Veronica Kirin, is announcing EMPIRE Retreat, hosted at the Jupiter Heritage Luxury Hotel in Split, Croatia, from January 24-28, 2022. Kirin is an award-winning scaling expert and coach. The 5-day retreat is geared toward impact-driven entrepreneurs seeking to reduce burnout, expand their reach, and grow their business exponentially (aka. build their empire).
In the heart of Diocletian's Palace, attendees of EMPIRE will embark on a 5-day EMPIRE Building program that includes daily workshops, a CEO photo session with a professional photographer Nikola Smernic, and three excursions around the Dalmatian Coast. Attendees will have exclusive access to Kirin's Three Pillars of Business Scaling™ system, which incorporates her signature programs, the Scientific Method of Business, Foundations of Empire Building, and Self Care Through Scaling. Through these programs and intensive coaching with Veronica, attendees will walk away with a customized toolkit enabling them to enact their scaling plan as soon as they return home so they can immediately begin growing their business exponentially.
Investment in the retreat is being offered at a 45% discount if registered before November 15th, 2021. Lodging and flights are not included, but hotel accommodations include daily breakfast and access to the hotel's swimming pool and spa.
For more information about the EMPIRE Retreat as well as the application to apply, please visit https://veronicakirin.com/empire-retreat.
No reviews yet.
Please add your comment sharing more about why you would recommend this event or not and how could it be better?