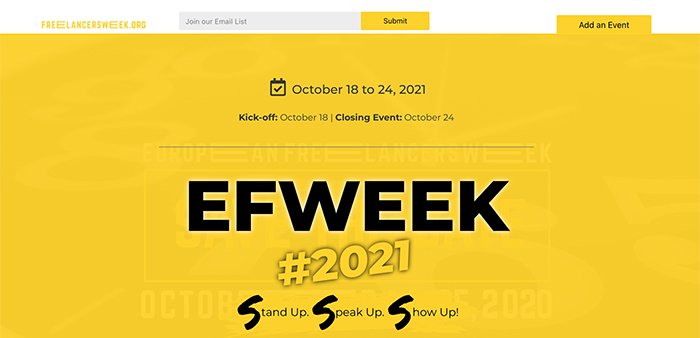 Event Name: EFWeek 2021
Website: https://freelancersweek.org/
Event type: Conference
Event location: Online
Starting date: 2021-10-18
End date: 2021-10-24
Price: FREE
Organizer: https://freelancersweek.org/
Language: English
Description:
#EFWeek 2021 is focused on recognition and community building — providing freelancers the opportunity to come together, focus on issues close to them and take collective action.
The world has changed and freelancers and independent workforces are no longer on the sidelines! Freelancers and independent workforces are building the new economy, and they are speaking out and creating the world they want to see and work in.
The vision is clear: It is time for collective action and freelancers to come together to drive change.
Freelancers: Stand up. Speak up. Show Up!
Past Editions
No reviews yet.
Please add your comment sharing more about why you would recommend this event or not and how could it be better?