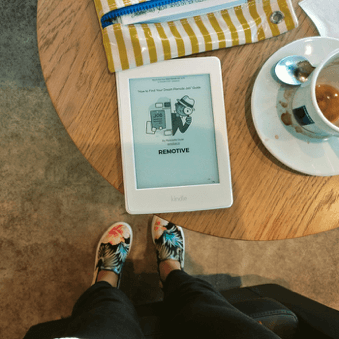 Some weeks ago we received an invitation to read the new guide to help people to find a remote job written by Rodolphe Dutel, from Remotive and after reading it, I would like to share my view with you.
At first, I read the book very quickly, and I found it especially interesting since Rodolphe successfully merged the most important issues to become a remote worker for a company.
This is what lead me to believe that book could be fascinating for our users in Remoters.net. After quietly reading the book, I would like to share with all of you a little review about it.
I have come to realize that this book is especially useful for people who want to become a remoter, but they want to work by themselves.
I think there are a lot of people who believe that to become a remote worker, you need to work on your own, but it is essential to show that is possible to work for a company, with a team and a boss, like in a traditional business or workplace.
In the last years, more and more companies hire remote workers and there are a lot of companies completely remote or distributed, and therefore, each year there are more job positions that can be done remotely.
"How To Find Your Dream Remote Job" can be considered as the bible to how to begin searching for a remote job if you are not in this field, and also it can be essential to check out if you are a person who is working remotely.
All things considered, I believe that this book is for the following two kinds of people:
To be able to know if you could work remotely because the book talks about the skills to be able to work remotely.
And for people who know that they can work remotely and need to know how to get a job because they don't have experience on interviews, or communications with this kind of companies, etc. For this second kind of people, the book is like a bible to follow to apply for a remote job.
I recommend the reading to everyone who is interested in remote work as a whole and especially in working remotely for other companies. You can get it here!
I would like to finish by thanking to Rodolphe for his invitation to read the book, for giving the practical recommendations for anyone who wants to look for a remote job, as well as for sharing his Buffer experience transparently. Thanks also to the people who participated in the book, with more than insightful interviews and stories, allowing us to learn more about their remote lives.
If you also have read "How To Find Your Dream Remote Job" by Rodolphe Dutel, feel free to also share your opinion in the comments below 🙂
— Elisa Martínez