Celeste Gonzalez is Junior SEO Specialist and works at RicketyRoo and, also does freelances. You can find her on Twitter or visit her web.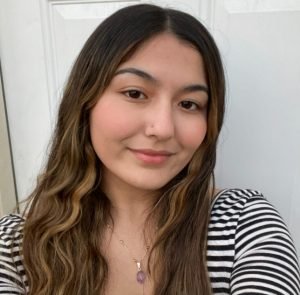 1. How did you start working remotely? How did you make the switch?:
I'm a 21-year-old recent college grad who started learning SEO during the pandemic. My classes, exams, and homework were all online so I was completely adjusted to remote work before I joined the industry. All of my SEO job experience has been remote, so I don't know what it's like to go to an office every day.
2. What do you think are the main advantages of remote work?:
Remote work offers so much more flexibility than in-person work. There is no commute or need to purchase business professional clothes. It also offers people the ability to work from anywhere. You are able to change your scenery to help yourself become the most productive you can be.
3. Do you think there are disadvantages or that you're missing something by working remotely?:
Considering that I have never had an office experience, I wouldn't know if I was missing something. I know most people say that remote work doesn't allow for the same socialization with coworkers, but I don't think that I'm missing that, at least at where I currently work. Although all of my communication with coworkers is through Google meet or Slack, I feel that it's sufficient and I still get to know them just as well.
4. From what cities or countries have you worked since you have become remote? What are your favorite ones?:
I've only worked from LA, which is where I'm from, and in Davis, California because I needed to go back to in-person classes this past fall.
5. From what type of places do you prefer to work? Home, coworking spaces, coffee shops or others? Do you have any specific place?:
I prefer to work from home. I have everything I need at home and can create the best environment to work in. However, sometimes I just need to leave my house to get something done. So then I'll visit a coffee shop where everyone else is also working on assignments, which makes me want to be more productive.
6. What places would you like to travel to while working remotely?:
My goal is to work while traveling throughout Mexico for at least 6 months.
7. What advice would you give to overcome the main challenges of working remotely? Share your remote productivity, communication, management, etc. tips based on your experience!:
I think finding your routine is the most important way to overcome productivity challenges. Listen to your body and give it what it needs. If you know that you become sluggish around 2 pm, then take a walk or a cat nap to get your energy back. Schedule out time to eat, stretch, and do whatever it is that you need to do to not burn out.
8. What tools do you use and are your favorites to work remotely?:
ClickUp and Google calendar are my favorite tools. I use both tools at work and in my personal life to schedule out things I need to do. I can be very forgetful unless something is written down, so inputting blocks of time to do things in Google calendar helps me remember.
9. How do you manage your business and taxes as a remote working professional?:
I'm a regular W4 employee, so taxes are pretty straightforward on that end. As for my freelance work, it will be my first time filing those forms. I'm lucky to have a family member who can help figure that out.
10. What advice would you give to people looking to work remotely and companies making the remote switch?:
My advice towards professionals around my age who are thinking about remote work in the future is to reflect on how they felt when doing remote schoolwork. In the beginning, everyone was happy about not having to physically go to class, but after a while, the novelty wore off. There are plenty of people who hated remote school and liked to go in person to learn and study. If you are one of those people, I would reflect on that time and see if you really think remote work is a fit for you.
As for my advice towards companies that are thinking about making the switch to remote work, I think that they should really think about the Gen-Z employees who are entering the workforce right now. We have all dealt with remote work in some capacity and know what it's like. For the most part, we want flexibility and not the mundane 40 hours a week in a cubicle experience. I strongly suggest thinking about the future and what Gen Zers are looking for in a company.
Disclosure: Any of the links on Remoters.net are affiliate links from which we receive a commission from sales of certain items. We also participate in the Amazon Services LLC Associates Program, an affiliate advertising program designed to provide a means for sites to earn advertising fees by advertising and linking to amazon.com or endless.com, myhabit.com, smallparts.com, or amazonwireless.com.