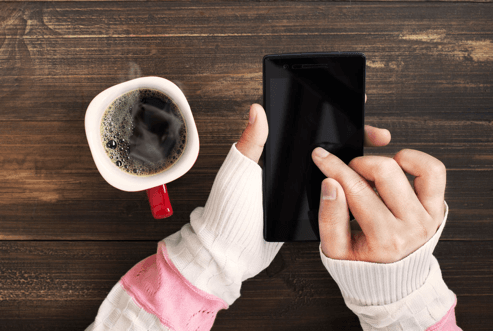 There are a growing number of online and mobile banking services for expats and digital nomads, allowing to open borderless accounts, send and receive money online or through an app, foreign transactions with reasonable exchange rates, as well as to withdraw cash with a minimum cost from any ATM around the world with debit cards that can be easily managed through apps.
These relatively new mobile banking services have been a game changer (and money saving alternatives) for digital nomads. Most of mobile banking services began as e-money payment systems with pre-paid credit cards, but, more and more are offering the same services as traditional banks, with lower fees and more features.
Not all banking apps are created equal or are as beneficial for digital nomads though, some require proof of residency, some only allow deposits through bank transfers or stored-value cards, others cannot accept bank transfers and require deposits through payment systems like SOFORT or iDeal.
This means they cannot completely replace everyone's traditional bank account, yet. But the added features of these mobile banking options can make travel and international banking transactions much easier.
1. Why Using Mobile Banking?
There are lots of reasons to look into mobile banking apps and online services when you're a digital nomad. Some of the greatest benefits these services have to offer include the following:
Easy Transfers
Online banking and mobile banking apps make it easy for you to transfer money from one account to another. Whether you're paying bills or need to receive money from someone else, you can do this with just a few swipes when you make use of online banking services.
24-7 Availability
With online and mobile banking, you have access to your bank accounts on a 24-7 basis. No matter where you are, you can send or receive money without having to worry about completing transactions during business hours.
Monitor Your Money on the Go
Online banking apps and services allow you to monitor your money and keep track of your transactions while you're on the go. There's no need to hunt around for a bank that's open at a time that fits your schedule. Everything you need is right there waiting for you whenever you're ready.
2. What to Look for in a Mobile Banking Service
In order to experience all the benefits of mobile banking, you need to make sure you choose the right app or online service. Here are some key factors you should consider when looking into different mobile banking options:
Easy Balance Checking
Look for a mobile banking app or service that allows you to easily check your balance. It also helps to choose services that send you texts or email notifications when your balances are low or when money leaves your account.
Easy-to-Use Apps
If you're going to use a mobile banking app, make sure it's an app that's well-designed and easy-to-use. Some apps are not designed with the user in mind, and they make for a very unpleasant mobile banking experience.
Secure Bill-Pay
Security should be of the utmost importance when you're choosing a mobile banking app or service. Make sure the service offers a secure way for you to transfer money and pay your bills. Check to see if they've had any past security breaches, too.
Mobile Deposit
When you're a digital nomad, it can sometimes be hard to deposit checks that you receive from your clients, especially if you're not near a bank or credit union. Look for an app that allows you to deposit checks on the go by sending a picture of the check's front and backside.
Low (or No) Fees
Avoid apps and services that come with high fees. You shouldn't have to pay a ton of money just to send or receive funds. If there are fees for overdrawing your account, check to see what they are before agreeing to use a particular app or service.
3. Mobile Banking Do's and Don'ts
In addition to keeping the factors listed above in mind, there are also some important dos and don'ts you ought to know about when searching for and using an online banking app or service. Here are some essential dos and don'ts to remember:
Do Confirm App Legitimacy
If you're downloading an app that's attached to an online banking service, make sure the app is legitimate. It's best to download the app directly from the bank's website to ensure you're using the right one.
Do Set Strong Passwords
Set a strong password for your online banking account and, while you're at it, make sure you have a strong password for your mobile device as well. This will make you less vulnerable to hacking and security issues.
 Don't Use Apps in Public
Avoid using your mobile banking app or service when you're also connected to a public Wi-Fi network. Wait until you're somewhere with a secure network to avoid potential security or theft issues.
Do Turn Off Your Bluetooth
Turn off your mobile device's Bluetooth function when you're not using it. This will help to shield you from identity theft and security breaches.
Do Update Your Apps
Make sure you're always using the most updated version of your mobile banking app. This will help you avoid glitches and reduce your risk of security issues.
Don't Stay Logged In
Always log out of your mobile banking app when you're finished with it. Many apps will log you out automatically after a certain period of time, but it's always best to do it yourself, just to be certain.
 Do Monitor Your Transactions
Finally, make sure you monitor your mobile banking transactions carefully. Check your balance on a regular basis to see how much money you have and where it's coming from and going. This will help you spot potential issues right away.
4. What are the best mobile banks with apps for remote working professionals and digital nomads?
Now that you know more about what to look for in a mobile banking service, it's time to put these tips to the test and search for the perfect service for your needs. Remember these guidelines as you get started and it'll be much easier to find a service that works for you. Don't forget to consider these great mobile banking apps and online services, either.
Here are the best known and established online and mobile banking services for digital nomads at the moment, with their main characteristics:
Convenience at a fair price––that's the name of the game for digital nomads using Revolut. This ingenious UK-based company distances itself from other banks, known for their traditionally high surcharges on purchases and transfers made when spending abroad.
With Revolut, users can travel with ease while staying on top of their expenses, send and request money at the touch of a button––even create monthly budgets so that you can keep ahead of the game.
Special Features
Free global ATM withdrawals up to £400/€400 per month
VISA and MasterCard
peer-to-peer lending scheme
No residency requirement
Transfer in 26 currencies at interbank rate
Send and request payments
Fees
Free standard account
£6/month premium account
Restrictions
E-money account deposits must be made via bank transfers or stored-value card top ups
A free account without the hidden fees––N26 is the bank that helps users manage their finances simply and quickly. Designed with convenience and on-the-go lifestyles in mind, N26 is modern mobile banking at its finest.
Additional features include premium accounts (that offer excellent travel perks), advanced security technology and a dedicated support team to answer all of your questions.
Special Features
No foreign exchange fee on Mastercard
Withdraw from any ATM
Expense tracking and spending reports
Transfers via Wise (Previously Transferwise)
Fees
Premium account €5,90 per month
Free account has transaction fees
Restrictions
Eurozone residents only
Monzo is a UK-based bank designed to make spending, saving and managing money as convenient and seamless as possible.
With over 4 million current customers and 40,000 new accounts created every week, Monzo is one of the fastest-growing and most trusted digital banking platforms. And with a recently announced US expansion plan, the client base is set to grow even larger.
Special Features
Maestro card for Europe and world-wide Mastercard
Group bank accounts available
Responsible investing
Send payment request via text message
Fees
Zero fees
Restrictions
UK residents only
Billed as a "Bank of the Free", the Dutch Bunq places a strong emphasis on fast and fun ways to manage your money. Bunq promises complete financial control of your funds, saving users time while also ensuring their privacy.
It's even capitalizing on the need for sustainability by offering a beautiful, stainless steel "Green" banking card (in exchange, Bunq will "plant trees when you spend money"). If environmental accountability is what you look for in a bank, Bunq could be the one for you.
Special Features
Prepaid Mastercard
Free transfers to Monzo users
Spending notifications and budgeting
Direct debits and other banking services coming soon
Fees
Free basic account
Restrictions
EU residents only; no ATM or bank transfers: deposits must be made by iDeal or SOFORT, withdrawals made by payment to SEPA bank account
Discovering the best account for you. That's the Monese promise. This UK-based bank was founded on the principle that having no UK credit history, or proof of a UK address, should not prevent users from being able to open a bank account.
Since then, Monese has thrived as an inclusive standalone alternative, offering instant, on-demand mobile money accounts for all European residents.
Special Features
Foreign exchange at interbank rate
Payments, direct debt, and online shopping
No credit history required
Cash deposits available
Fees
£4.95 per month additional transaction fees
Additional transaction fees
Restrictions
Maximums on balance, deposits, and transfers
Leopay is a digital banking alternative offering financial freedom and worldwide coverage to mostly European residents (with the inclusion of a few worldwide island nations), regardless of citizenship and financial history.
Personal and/or business accounts are free, and come with a dedicated IBAN (meaning you are given a non-residential European bank account), as well as no monthly fees. Users can send and receive money seamlessly, even collect salary payments, in ten different currencies.
Special Features
No foreign exchange fee on Mastercard
Withdraw from any ATM
Expense tracking and spending reports
Transfers via Wise
Pre-paid VISA
Send and receive transfers in 10 currencies
Accounts available in EUR, USD, GBP, CHF, HRK, BGN, JPY, and RON
Available to non-residents of EU
All transfers between 

LeoPay

 users will be free of charge
Fees
No monthly fees
€2 – €4 ATM withdrawals
Other service fees
Restrictions
Available to non-residents of EU
Founded in 2010 by two friends, each with his own frustrating experience converting currencies (for one, Euros to pounds; and the other, vice versa), Wise (Previously Transferwise) was born with the purpose of making overseas money transfers simple, cheap, and, above all, fair.
Because Wise uses real, up-to-date exchange rates while showing you what you save by not using traditional banks. No wonder over 4 million customers, moving $4 billion dollars every month, choose to trade with Wise.
Special Features
Works like local bank in UK, US and Eurozone
Transfer via Wise
25+ currency options
Fees
No monthly account fee
Small fee for currency exchange
Some additional fees
Restrictions
No ATM withdrawals; some restrictions on USD transfers.
Mobile and Online Banking Services For North Americans Digital Nomads
You may have noticed that these e-money online bank options are based primarily in the UK and EU. While some, such as Revolut are open to anyone (and coming to the US soon), others are really for residents of Europe only.
In fact, at the moment we can see a few differences in the way bank transfers work in the EU vs. the US. For example, IBANs (international banking access numbers) are used throughout Europe and in several countries across the globe. But IBAN has not been adopted in the United States, Canada, Australia, or New Zealand; SWIFT codes are needed for transfers to these countries.
Despite the U.S. having a relatively unregulated banking industry (see 2008 Global Financial Crisis), it is actually more difficult to get a bank charter in the U.S. than in other countries. This means that U.S.-based online banking options are usually backed by existing traditional banks. Examples include Simple (from BBVA) and Moven (from CBW bank).
But, the competitive nature of the U.S. banking industry does provide good options for nomads. Several banks have introduced accounts and credit cards that offer low fees or no fees for international ATM withdrawals and foreign exchange fees.
In comparison, the Canadian banking system is more regulated and less competitive—ironically, with the same result. Canadian online banking options are also limited to banking options backed by traditional banks.
There are some low fee or no fee online options, such as Simplii (formerly known as PC Financial) and Tangerine (formerly known as ING Direct), but credit card options with free foreign transactions are virtually non-existent for Canadians. Luckily, the traditional banks in Canada do offer decent online services, including mobile banking and mobile check deposits. And Canadians can do easy bank-to-bank transfers via email.
If you found this article useful you might also like to take a look at: 
Disclosure: Any of the links on Remoters.net are affiliate links from which we receive a commission from sales of certain items. We also participate in the Amazon Services LLC Associates Program, an affiliate advertising program designed to provide a means for sites to earn advertising fees by advertising and linking to amazon.com or endless.com, myhabit.com, smallparts.com, or amazonwireless.com.