Running Remote Online is much more than just another webinar – this is a full-scale conference experience available from anywhere in the world! Supercharge your remote teams with insights from the companies leading the remote work revolution.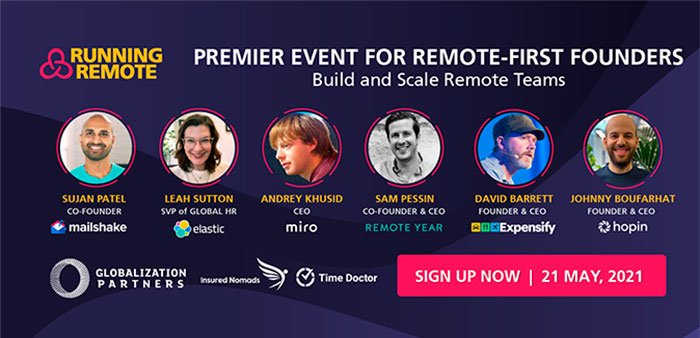 Location: Online.
Dates: May 21, 2021.
Price: $179 (Get 20%-off with the promo code "remoters")
Organized by: Running Remote.
Language: English.
Running Remote events are carefully curated to teach you next-level, actionable strategies and tactics you can utilize the very next day to manage & grow your remote team.
Whether you run a remote-first company or a remote team within a hybrid or traditional company, our events are for you. You will get equipped with the tools to succeed in building remote teams. Get inspired, sharpen your skills, and energize your creativity with insights from experts leading the remote work revolution.
Conference Schedule
* 15 hours of content & networking opportunities
* 2 Stages *Break out sessions *Networking *Live & on-demand
Doors Open @ 03:00 New York (ET) / 08:00 London (BST) / 15:00 Hong Kong (HKT)
Here's a sneak peek of the 2021's lineup:
Sujan Patel, Co-founder at Mailshake
Leah Sutton, SVP of Global HR at Elastic
Andrey Khusid, CEO at Miro
Sam Pessin, Co-founder & CEO at Remote Year
David Barrett, Founder & CEO at Expensify
Johny Boufarhat, Founder & CEO at Hopin
Check the full Agenda here!
Past Editions
Running Remote 2020
TL;DR: Due to COVID-19 we have decided to postpone the Running Remote live conference until 2021. Instead, we are going all-in on virtual conferences until the end of the year.
Running Remote 2019
Location: Bali, Indonesia.
Date: 29th-30th June 2019.
2019 Speakers: Running Remote 2019 had 26 speakers, 20 sponsors, 80 partners, and 418 attendees from 46 countries. 57% of attendees were CEO's/Founders/VP's coming primarily from SaaS, consulting, web & app development, and e-commerce.

Mariano Suarez-Batan, CEO, Mural.
Dr. Beat Buhlmann, General Manager, Evernote.
Marcie Murray, Director of Support, Shopify.
Andrew Dumont, Founder, Curious Capital.
Air Salihefendic, Founder & CEO, Doist.
Marvin Liao, Partner, 500 Startups.
Andrew Warner, Founder, Mixergy.
Adii Pienaar, Founder, Conversio.
Zack Onisko, CEO, Dribbble.
Tim Burgess & Duncan Macintosh, Co-founders, Shield Geo.
Ilyas Vali, Co-Founder & APM, rLoop.
Liam Martin, Co-Founder & CMO, Time Doctor.
Steve Munroe, CEO, Hubud.
Running Remote 2018
Location: Ubud, Bali, Indonesia.
Date: 23rd – 24th June 2018.
2018 Speakers:

Cliff Pollan (pending) (CEO, Sococo).
Amir Salihefendic (CEO & Founder, Doist).
Sara Sutton Fell (Founder, Flexjobs & Remote.co).
Steve Munroe (CEO, HUBUD).
Rob Rawson (CEO, Staff.com).
Justin Cooke (CMO, Empire Flippers).
Andrea Loubier (CEO, Mailbird).
Liam Martin (Co-founder, Time Doctor).
Eiji Han Shimizu (Mindfulness Coach).
Disclosure: Any of the links on Remoters.net are affiliate links from which we receive a commission from sales of certain items. We also participate in the Amazon Services LLC Associates Program, an affiliate advertising program designed to provide a means for sites to earn advertising fees by advertising and linking to amazon.com or endless.com, myhabit.com, smallparts.com, or amazonwireless.com.
No reviews yet.
Please add your comment sharing more about why you would recommend this event or not and how could it be better?
Other similar events in Conferences
| Event | | Description |
| --- | --- | --- |
| | Running Remote 2023 | Running Remote is the world's largest conference on building remote teams. In the 5th year,... |
| | Freedom Business Summit 2022 | Join us for two powerful days to learn the best strategies about getting second citizenship,... |
| | 7in7 Digital Nomad Conference | Seven conferences over seven years to figure out the digital nomad life. This is Year... |
| | Bansko Nomad Fest 2022 | Bansko Nomad Fest 2022 is an annual event that brings together hundreds of digital nomads... |
| | Empire Retreat | An intensive coaching with Veronica, attendees will walk away with a customized toolkit enabling them... |