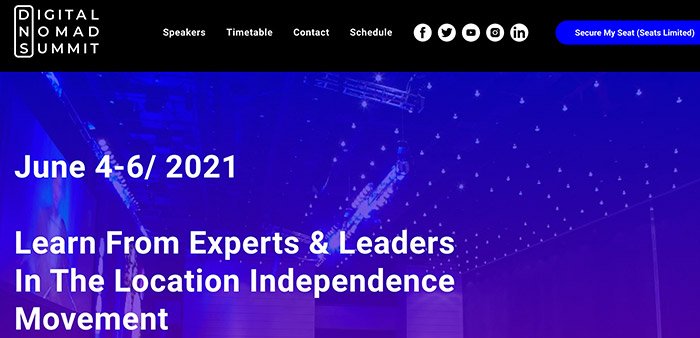 Learn From Experts & Leaders In The Location Independence Movement.
Place: Online
Dates: June 4-6/ 2021
Price: $99 USD
Organized by: Thedigitalnomadsummit.com.
Language: English
Special Topics
We will be covering a myriad of topics pertinent to the Digital Nomad lifestyle.
Company Incorporation: How do you incorporate your company even if you are not in your home country
Nomad Bank Accounts: How to open up your bank account and best ones to use
E-Residency: How to register and run a business out of places like Estonia
Filing Taxes: Best practices for filing taxes as a Digital Nomad
Managing Remote Teams: How to build and scale out entirely remote teams
Health & Fitness: Taking care of your fitness & nutrition while traveling the world can be an issue. Not anymore.
Previous Editions
Online version. June 5th – 6th, 2020.
No reviews yet.
Please add your comment sharing more about why you would recommend this event or not and how could it be better?