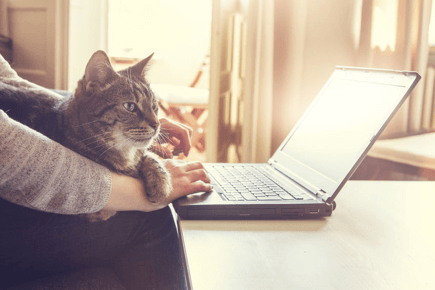 More people are pursuing remote jobs to have the benefits of the freedom and flexibility of a remote based position. When you can work from anywhere, you have the ability to travel and see the world while still funding your adventures with income from your job.
You could choose to be your own boss, working as a freelancer and finding your own clients, or take on short-term gigs for one or two clients at a time, or even be hired for a full-time, permanent position with one company.
Top Remote Work Friendly Careers
These popular jobs to work remotely will appeal to people from a variety of backgrounds and skills. Start your own remote work career by finding your perfect job at the links below.
1. Digital Marketer
Digital marketing is an area that has few barriers to entry and is in particularly high demand. Besides being a generalists there are also many sub-types of digital marketing jobs requiring different set of skills, from more technical ones for SEO to those that require strong communication skills like Online PR specialist.
As a generalist digital marketer, you may manage email advertising campaigns, SEO strategies, PPC campaigns, increasing the company's reach, visibility, traffic and ultimately, conversions in order to achieve the desired growth.
2. Web or Graphic Designer
Creative digital nomads may find their calling in web design or graphic design. Learning how to design websites and graphics does require an initial investment in time in order to be successful at the job. As this is a highly popular line of work, there are many educational resources and tutorials available online to teach you the required skills, and some these resources are even free.
Designing graphics, logos, WordPress themes, websites, and UX and UI design are all niches within web and graphic design that you may choose to focus on.
3. Web developer
Software development and in particular, Web development, is one of the sectors that have been highly flexible to hire remotely due to the  nature of development jobs that can be easily executed and coordinated from anywhere by having access to a computer with the used development tools and access to a reliable Internet connection, as well as by the scarcity of developers with certain experience and skills that live or willing to live in certain areas, in a high demand sector.
Although learning to code can have a higher learning curve than other skills, most positions don't require to have a specific diploma and  there are now many development schools, trainings and bootcamps, many of them online and even targeted to become a remote based Web developer, like Microverse.
4. Customer Support
Many companies see the value in remote customer support members. There is no need for customer support workers to be in the same office as the rest of the team, or even working the same hours. Remote customer support workers could be in an entirely different time zone, providing late night support during their own workday.
Working in customer support requires little contact with the rest of the company, so the ability to work independently while using basic data entry skills and excellent English are usually all you need to get started in customer support.
5. Teaching and Tutoring Online
Teaching online has grown in popularity, with the option of teaching English as a second language to children, tutoring high school students, offering courses on technical skills, and building workshops on just about anything. It's highly likely that for any subject you are interested in teaching, there are people out there looking for a tutor in the same subject.
There are many different platforms available for online teaching. Which you should choose depends on what you'd like to teach. Udemy is a great place to post course videos about almost any skill. VIPKID is for teachers who are interested in helping young students from China learn English. Some online tutors choose to freelance, offering their skills over Skype or another chat software.
If you prefer to create curriculums and courses, you can build your own and host the course on sites like Skooli or Wyzant to bring in passive income.
6. Social Media Manager
Social media management involves looking after the social media accounts for a client. This may involve creating posts, responding to customer inquiries, and creating a content strategy. Most companies have a social presence these days, and many see the benefit in outsourcing this work to a freelance social media manager.
Usually previous experience is required, but you can build your own social presence to show your expertise. There are thousands of social media manager jobs out there waiting for you to put your social media knowledge to use.
7. Virtual Assistant
Many small businesses have tedious administrative tasks that they'd rather outsource to a virtual assistant. This frees up the business owner to focus on bringing in clients and sales, while still ensuring that tasks such as handling appointments or updating websites is taken care of by someone else.
Virtual assistants can manage a wide variety of tasks, including accounting, managing inventory and shipment data entry, answering client emails, word processing taking notes from conference calls, scheduling, providing customer service, and handling appointment calendars.
A high degree of organization is a must for this position. You could work for one company, or work as a freelancer on a project basis for companies who need a little extra assistance.
8. Data Entry
Data entry is a particular subset of virtual administration work. Entering data is essential for businesses to track inventory, manage records, measuring performance, and many other things.
Previous data entry experience is beneficial, but there are many entry level data entry positions for fast typists who are highly organized. Data entry work could be freelance, project-based work, or continuous long-term contracts.
9. Translators
With the popularization of the internet, the global reach of businesses that were otherwise only local and access to a multilingual audience, online translation became highly popular: from the translation or localization of particular pages to entire Websites or professional related documents too.
There are online translation platforms and communities that provides basic automated translation services -of limited quality- as well as professional human translation ones, in many cases, by allowing the potential customers to get in touch directly with the translators.
10. Content Writers
Last but not least, copywriting is one of the most popular remote friendly jobs with a low entry barrier. Copywriters can find a wide range of jobs, from working full time contributing in specialized blogs from any industry (from fashion to tech), to freelance jobs by writing on-demand content for businesses Websites, depending on experience and quality.
Where To Find These (and more) Remote Jobs
If you are choosing to freelance, you could reach out directly to the companies you'd like to have as clients, or build up your own portfolio. Social media managers and tutors, for example, can create their own sites to attract clients. If you'd rather take on a position within a company, there are many job sites dedicated to remote work:
Remote jobs are becoming increasingly sought after, and the demand for remote workers is just as high. Many companies realize that people who work remotely are generally happier with their work and more content with their position, because they are inspired by the freedom and flexibility.
Although some remote jobs require a specific skillset, there are many resources available online for you to be able to learn how to design graphics, or manage email marketing campaigns, or tutor chemistry. Whether you are creative, analytical, or have a pleasant phone manner, one of these popular remote positions may be your ticket to travel the world and work remotely.