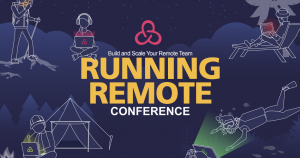 Running Remote is the world's largest conference for remote companies. Founders of leading technology companies and venture capitalists shared advice for launching and scaling a successful remote business at this year's event, in Nusa Dua, South Bali.
Here's a roundup of top tips from this year's conference, held on June 29th-30th.
1. Remote work can transform lives in the developing world
It's easy to list the benefits of remote work for those of us escaping well-paid corporate jobs in big, developed cities. But it's important to remember that remote work can offer powerful benefits to people who live in disadvantaged situations too.
Running Remote opened by sharing the story of Fahim, a graphic designer living in Bangladesh. He has Duchenne Muscular Dystrophy and is bound to a wheelchair. But through sheer determination, he taught himself graphic design and has earned enough money through his Fiverr store to buy land for his family to build a home. You can hire Fahim here.
2. Remote teams should be built on trust
Andreas Klinger – AngelList's Head of Remote – thinks that some managers of remote teams should flip their understanding of trust around.
If you worry that your team might be playing computer games instead of coding; or that they lack motivation or make bad decisions, then you should look at the processes, communication styles, and decision-making processes that you're fostering as their leader.
Ultimately, it's managers of remote teams who carry responsibility for building a virtual environment in which people feel inspired to do great work and enjoy coherent, transparent expectations for how their output will be measured.
3. Remote companies can scale by respecting people and culture
International employment and tax obligations can intimidate any business owner and HR department. Fortunately, companies like ShieldGeo have shown that it's possible (and even desirable) to commit to local employment laws when hiring remote workers.
Co-founders Tim Burgess and Duncan Macintosh manage hundreds of employees in over 60 countries. They concede that formal employment might have more upfront costs than hiring contractors, but they believe it's offset by the wellbeing it generates – as each worker will feel more valued and part of a team. Long-term, employees are more likely to stay with the company and be more productive. Additionally, it's more likely to help with legal compliance.
Unlike some major companies, ShieldGeo bases its pay on local living costs and customs – for example, offering 13th-month pay. They also invest in healthcare and offer a 'wellbeing' allowance for employees to apply to a range of activities. Again, they believe these upfront costs achieve a positive ROI, as their employees will feel more motivated.
ShieldGeo has concluded that remote work is the most valuable employee benefit of all, as it frees each team member to find a space that matches their personality type and preferences; and to build a lifestyle and working routine around their hobbies and passions – which inspires and frees them to perform better work.
4. Remote companies are free to pick an ideal city for each hub
When Shopify's support team outgrew their office and realized they were struggling to deliver a consistent global support service, they chose to leverage remote workers.
Marcie Murray – Shopify's Director of Support – explained that they decided to set up hubs for remote workers to report into.
How does Shopify choose a city for a support hub?
A culture of art, innovation, and entrepreneurialism

Good liveability and a thriving downtown

Government investment in technology and innovation

Diversity of language and culture

Affordability for local residents

A chance to become the city's top employer
As a testament to the success of this strategy, Shopify added support for 16 new languages in under one year.
5. VC investors are starting to accept remote companies
Five years ago VC investors in San Francisco would dismiss remote companies and insist that any business they're investing in moves their entire operation into the city.
However, the tide's shifting, according to Anthony 'Pomp' Pompliano and Marvin Liao – both VC investors. But do remote companies really need VC funding?
Mixergy's Andrew Warner lead the panel debate to explore these topics.
Pomp and Marvin believe that founders shouldn't rush to get capital; or scale too quickly, and instead focus on developing an outstanding product for a small audience – then grow the user base. Founders will enjoy more credibility and leverage with investors the longer they wait to raise investment.
'You have to crawl; before you walk; before you run. Find the hundred people that will beat down the door if you take your product away from them. Don't worry about thousands of users. Find those hundred people, build the product – then find more of them'. – Anthony 'Pomp' Pompliano
Pomp argued that while remote work is a fringe activity right now, what starts at the fringe will eventually become mainstream. He also compared decentralized cryptocurrencies to  remote workers – particularly those who build products for perceived value, instead of a salary.
6. Remote work might be disrupted by blockchain technology
As if Elon Musk's Hyperloop concept wasn't exciting enough, one of the top entries in the competition to build a functional prototype was a team of part-time remote workers, who use blockchain technology to incentivize and reward innovation.

rLoop set out to create a working model of Musk's vision for transporting people in trains traveling within vacuum tubes at over 1,000km/h. Competing against more than 1,000 teams – some with millions of dollars in funding – they reached the final 12 and were picked for production. They also won a shelf of awards for innovation.
Today, their team boasts over 1,300 engineers spanning 59 countries. Work is incentivized using a blockchain-based token that's awarded for activity and 'reputation value'.
Blockchain is the future of work, according to Ilyas Vali – the co-founder of rLoop. He believes that work will be represented by 'pixels' that a worker can choose to undertake. All productive output will be stored on a blockchain – an immutable decentralized ledger – and workers will be rewarded based on the economic value and performance outcome of their work.
7. Remote work isn't without problems – or solutions
Hotjar is a shining example of remote success. As a fully-remote company from day one, it's grown from $0 to $20m of ARR in less than four years.

That said, their VP of Operations – Ken Weary – warned that there are drawbacks to working remotely. Fortunately, there are some great solutions available.
8. Build a team communication strategy
Hotjar's team started to struggle with productivity – with employee calendars looking packed out, 'like Tetris'. On analysis, they found that some team members were using video calls to explore questions that could easily be resolved elsewhere.
Hotjar's remote communication tips:
Create a social channel matrix to define which communication channel should be used for each kind of query.

Build a productivity structure into the week – with dedicated days to plan and focus on work. Ban non-emergency meetings on certain days.
Define accountability for each task
As Hotjar grew in employee numbers and complexity, they realized that basic queries and tasks often slipped through the cracks or got bounced around departments.
Hotjar's accountability tips:
Establish 'tribes' across departments for certain tasks. In Hotjar's case, these are acquisition, activation, and engagement.

Create internal documents for company processes so that anyone – including new employees – can quickly and easily discover the optimum way to resolve an issue.
9. Develop strategies to tackle loneliness
Loneliness is a known challenge for some remote workers – dependent on their character type and personality traits.
Hotjar's tips to tackle loneliness:
Invest in team activities like meetups – with plenty of dedicated time for bonding – and offer a budget for team members to spend on social activities with each other; whether that's travel tickets, online gaming, or pizzas.

Create groups – or 'houses' – for team members who might not work together to solve challenges and tackle fun tasks.
10 Make sure employees use their vacation allowance
Downtime is essential to recharge and remain productive. But many remote workers work long hours and don't take advantage of their holiday allocation.
Hotjar's tip to encourage vacation: 
Give each employee a budget for vacations. They only get to access this cash for trips – so it encourages them to take time off.
11. Remote work can make your team more efficient – if you implement the right principles
Dribbble have grown from 8 to 47 employees and quadrupled their revenue in less than three years, without receiving any outside funding.
Remote work is the key to Dribbble's success, according to CEO, Zack Onisko. He argues that their remote engineers are three times more efficient than in-house engineers at previous companies; and that offering the lifestyle benefits of remote work slashes attrition rates. He points to Dribbble's near-zero attrition rate over three years as proof.
How Dribbble grew as a remote team
Dribbble have grown as a remote company by committing to three principles, according to Zack.
Stay connected
Create a company vision and mission statement

Establish the company's values

Choose a stack of communication tools

Use a company wiki to document your internal processes

Hold regular calls and build games, stories, and jokes in

Put effort into praising co-workers publicly and imaginatively
Do great work
Leaders should reduce distractions and inefficiencies – not add to them

Run fewer meetings and make them more effective – always with an agenda document

Build a weekly routine – with days dedicated to focused work (no meetings)

Overlap working hours where possible to avoid blocks when team members are unavailable to solve problems

Take the cash your business saves through remote work and invest it into your team
Have fun at work
Make people feel comfortable to be themselves using jokes and emojis

Organize both real-life meetups/trips and virtual events – like book clubs and selfie competitions
12. Values and culture are crucial for a remote team to succeed
Adii Pienaar – founder of Convers.io and co-founder of WooThemes – echoed a message that almost every founder at Running Remote expressed: it's values and culture that hold a remote team together. Here are his tips on how to identify yours.
Prioritize values and culture from the start
As a company grows, it becomes more difficult for a founder to directly engage with employees regularly – so it's helpful to identify and build culture and values into an organization from the start.
'While you can plan for the break, you won't necessarily be able to plan the solution… But simply being aware of culture will add incremental improvement… and put your company ahead of any that don't think about culture.' – Adii Pienaar, Founder of Convers.io
Decide what you'd like to clone
If you're struggling to identify your values, Adii recommends that you try to identify things in your business that you'd like to clone. This will help you to understand what your underlying values are. Perhaps they'll change over time – but they shouldn't shift too far.
Next year's Running Remote conference is in Austin, Texas! 
---
Guest post by Alex Napier Holland, Content creator for adventure and technology brands, digital nomad and winner of  the Remoters' Running Remote contest in 2019.