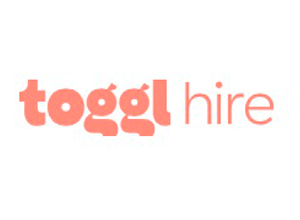 Name: Toggl Hire
Web: https://toggl.com/hire/
Category: HR Software
Language: English
Price: $90 USD
Tool Description:
Toggl Hire is designed to make the best candidates pop, saving you time, money, and precious decision-making energy. Our skills tests help you cut through the noise and straight to the best talent.
How it works:
1. Sign up for Toggl Hire: Unlock up to 5 candidates for FREE!
2. Create your first job opening: Curate the perfect test or build your own from scratch. Toggl generates unique tests for each candidate from our database of 3000+ questions. Get a shareable link and spread the word about your newest job opening
3. Get your test out there: Share it with candidates or post on a job board. Give candidates instant feedback on how they performed
RATING
Your Review of The Tool:
Toggl Hire helps quickly test those things before talking to candidates and this greatly improved the hiring process.
Create with Toggl your skills test in 2 clicks: Select the job title you're hiring for, and Toggl Hire will create a test for the most relevant skills.
Rate the Tool:
5
What are the tool "pros" & benefits?:
A free plan available that is not time-limited and is a great way to get started with testing out Toggl Hire
Roles you can hire for: Developers, product, marketing, sales, support
Skills test generator: Automatic and customizable tests
You can integrate Toggl Hire with Greenhouse and Workable or any other ATS that is available on Zapier
App integrations: Slack, Workable, Google Chrome, Greenhouse
What are the tool "cons" & issues?:
The free version could be not enough
No reviews yet.
Please add your comment sharing more about why you would recommend this tool or not and how could it be better?
| Tool | | Description |
| --- | --- | --- |
| | Freshteam | Manage your hiring, onboarding, time-off, employee data, and HR workflows in one place. |
| | Remoteam | Set up payroll and benefits all at once. We help with onboarding and paying independent... |
| | Remote.com | Let Remote.com's professionals handle the complexities of running your global HR operations while our software... |
| | Zenefits | All-In-One HR: Streamline onboarding, benefits, payroll, PTO, and more with our simple, intuitive platform. |
| | Pilot | Pilot helps companies with payroll, benefits, and compliance for their remote team members, and one-click... |