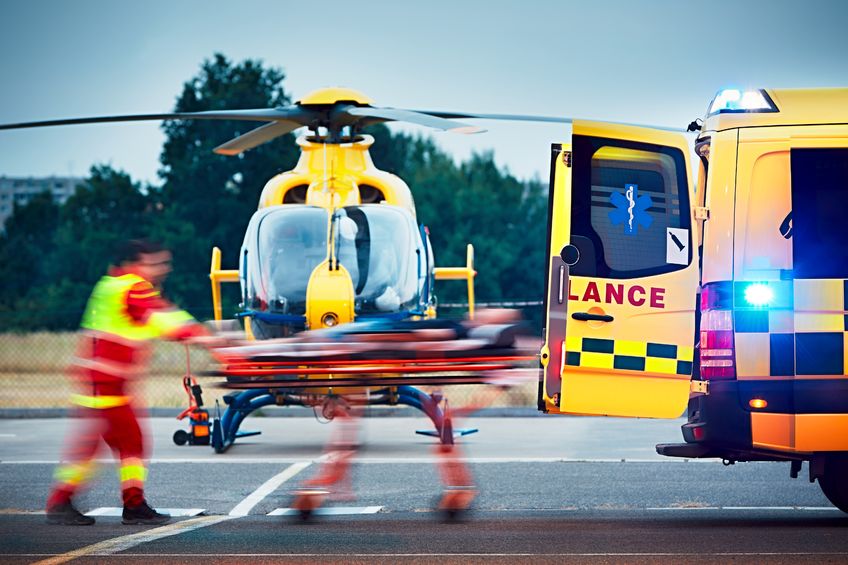 Travelling the world as a digital nomad is an exciting and liberating lifestyle choice, but getting health insurance when you're continually moving from one country to the next isn't always straightforward. In fact, it's one of the hidden costs of going remote.
Health insurance for digital nomads is essential. Sickness or injury can happen no matter where you are in the world, so finding affordable health insurance that will follow you around the world is crucial. Despite its availability, health insurance isn't always easy to obtain.
The thing is, normal travel insurance isn't usually suitable for long-term travellers who frequently move country, and nor is getting an annual health insurance in each individual country, as you won't be there long enough to use it.
Luckily, there are reputable companies that offer international health insurance for digital nomads. Before we dig into the details, we'll discuss why health insurance is so important, primarily when you're traveling or working remotely as well as the best alternatives in the market.
1. What is International Health Insurance
International health insurance supplies travelers and digital nomads with coverage when they travel abroad. Not only does the coverage from international health insurance cover the necessary mileage, but it also covers more than standard business or travel insurance that many digital nomads and those that travel for work tend to gravitate toward.
With a good international health insurance plan, you'll have access to local health care services, as well as emergency coverage. Treatment of ongoing conditions and maternity are also included, as this type of care is essential to many and cannot come to a screeching halt because you're out of network for your insurance provider.
2. Why Does Health Insurance Matter for Digital Nomads?
If you're young and healthy, you might assume that health insurance isn't something you need to worry about. That's not exactly the case, though. It's important for everyone, including digital nomads, to make health insurance a priority for the following reasons:
Premium Access to Healthcare
First and foremost, with international health insurance, you'll have premium access to healthcare. Even when moving to a country that has universal health insurance, a global plan will ensure that your family has the best local healthcare options available. This is important, primarily when some local medical institutions may only meet your very basic needs.
In many cases, the freedom to choose your facility and healthcare provider is vital to the care you'll receive. You deserve those options no matter where you're residing.
Avoiding Financial Loss
One of the main purposes of health insurance, other than ensuring medical care, is to prevent you from suffering an extreme financial loss in the event of a medical emergency or diagnosis of illness. Despite the cost of healthcare in the country where you live, or if you're accustomed to a universal plan, it's important to distinguish that the cost of medical care in other countries could be much higher than what you're used to. You need the right coverage.
If the level of healthcare you require isn't available where you're traveling, international health insurance will protect your well-being. Also, the state of your financial affairs at the time of care will not dictate the care you receive.
Reduce Out-of-Pocket Costs
When you have health insurance, you don't have to pay as much money out of pocket when you're seeking healthcare. You might not be someone who goes to the doctor very often. What about when an emergency arises, though? If you suddenly get sick or injured, you'll likely find yourself wishing you had invested in health insurance to help offset the cost of your care.
Take Advantage of Preventive Care
Health insurance also allows you to take advantage of preventive care treatments (such as flu shots, physical examinations, and wellness checks) at a low cost (or no cost at all in many cases). This helps you avoid a lot of health problems or catch them early before they become truly serious.
Enjoy Peace of Mind
Having health insurance also gives you peace of mind, which is something that's hard to put a price tag on. When you have health insurance, you can feel confident that you'll be able to afford any healthcare needs that may arise during the course of your travels. This, in turn, may help you to feel more confident venturing out and adopting a legitimately nomadic lifestyle.
Emergency Coverage
When you're living or traveling abroad and the time comes that you or one of your family members needs emergency care, your international health insurance plan will assist you with the extensive costs that come with emergency treatment. From the initial ambulance ride (if necessary) to surgery and rehabilitation, the hospital price tag can add up, and fast.
International health insurance might help with some of the expenses that aren't directly associated with a medical emergency as well, such as travel or evacuation costs if the country you're living in does not or cannot supply the care you need. While it can sound extreme, these are situations that you should be prepared for.
Daily Medical Expenses
A potential medical emergency is not the only reason to obtain international health insurance before you move or travel abroad. Many families have day-to-day medical expenses that add up quickly, and these things don't go away when you move.
International health insurance will assist you in covering these costs, including regular general practitioner visits, dental care, and eye exams. Access to care before, during, and after pregnancy is an essential component of international health insurance plans as well. Life doesn't stop because of a move.
3. Criteria to Consider When Shopping for Digital Nomad Friendly Health Insurance
Choosing the right provider is just as important as picking the plan. It can become quickly overwhelming when you're unsure of what components you should look for. While reputable insurance providers are out there, there are many that might not have all the puzzle pieces you want.
Again, choosing an insurance plan has to fit your lifestyle, and it's about what works the best for you. Consider the following when choosing a company for your international health insurance plan.
Customer Service
Moving from your home country can be difficult enough, even if it's not a permanent move. You don't want your health insurance coverage to make it even harder. Many companies offer global health insurance, but not all of them have the excellent level of customer service needed to make things run smoothly in the event of a medical emergency.
A few stand-out components of customer service for international health insurance plans include the ability to file a claim 24/7 and also a multilingual staff to remove potential language barriers. Medical emergencies can happen in any corner of the world, and an insurance staff that can help you is crucial.
Premiums
One of the first things you need to consider when shopping for health insurance is the premium. This is the amount of money you'll pay on a monthly or yearly basis for your insurance company to cover you.
Keep in mind that there's more to your insurance plan than the premium. For example, a plan with a low premium may have a high deductible, meaning you have to pay more money out-of-pocket before your insurance provider will chip in.
Out-of-Pocket Costs
Pay attention to how high your deductible is. You'll also want to take note of other out-of-pocket costs, such as co-pays (the amount of money you have to pay for a specific service) and co-insurance (a percentage of the total cost of your care that you may have to pay). All of these out-of-pocket costs can quickly add up and make an insurance less desirable.
Prescription Drug Coverage
Find out if the insurance plan you're considering offers prescription drug coverage, too. Many plans do, but it's not required. They also may only cover certain types of drugs, or they may require you to use a lower-tier drug first before they'll pay for a higher-tier option.
Extensive International Medical Network Access
A good international health insurance provider will give you access to a large network, allowing you to search for healthcare professionals and hospitals that will not force you to pay out of pocket initially. Your health insurance is there to protect you, and this includes bills of any size. You should have the option to go to the provider that's best for you, even if the costs are higher.
As a digital nomad, there may be times when you're traveling outside of the country. It's important to find an insurance plan that will cover no matter where you are and there are many that are designed specifically with digital nomads in mind to ensure they always have coverage.
HSA Eligibility
A Health Savings Account (also known as an HSA) can be a lifesaver for independent workers and digital nomads. This is a tax-free account that you can dip into to help cover out-of-pocket healthcare costs. If this is important to you, make sure you find an insurance plan that allows you to open and contribute to an HSA.
4. Do's and Don'ts for Choosing Your Digital Nomad Health Insurance
There are some additional dos and don'ts that you ought to keep in mind when looking for a health insurance plan, including the following:
Do Compare Several Different Plans
Always compare several different insurance plans before settling on one. Don't just choose the first plan that pops up when you begin your search. Dig deeper and learn as much as you can about your options first.
Do Look Beyond the Premium
Remember to look beyond the premium of a specific plan as well. Pay attention to the out-of-pocket costs and all the other details listed above. Taking note of these details will save you from ending up with a cheap plan that doesn't offer you the kind of coverage you need.
Don't Try to Cover Things Up
When signing up for a health insurance plan or looking for one that suits your needs, don't try to cover up aspects of your health history. Be honest so you can get the care you need and don't have to face any kind of penalties later.
Don't Forget the Renewal Date
Finally, be sure to make note of the renewal deadline once you've chosen a health insurance plan. If you let your coverage lapse, you could end up paying more money later.
5. Find Your Perfect Digital Nomad Health Insurance Plan Today
As you can see, there's a lot to keep in mind when you're shopping for health insurance for digital nomads. If you remember these tips, though, it'll be easier for you to find an insurance plan that suits your needs and your budgets. Now, it's time to explore some of the best international insurance plans you might want to consider.  These are some of the top international health insurance plans for digital nomads:
SafetyWing Travel Medical Insurance
Safety Wing Travel Insurance offers options for digital nomads, travelers, and remote teams. A global medical insurer that covers people from around the world, Safety Wing has gained a positive reputation in the international insurance industry over the years. You can purchase Safety Wing insurance even if you're already living abroad, which is completely convenient for many.
Safety Wing was designed to meet the needs of digital nomads, and overall, they've done a stellar job of developing their plans and customer service team. Here are a few of the pros and cons.
Safety Wing Pros
Available to purchase even if you've already been living abroad
Incredibly affordable
Plans cover both unexpected medical and travel expenses
Monthly payments are taken out automatically
If you've been abroad for 90 days, visits to your home country are covered under Safety Wing as long as you've kept coverage for 30 days
Young children are included on the plan (2 per every 1 adult)
Covid-19 coverage is included
Coverage for employees and remote teams
User-friendly dashboard
Great customer service
Safety Wing Cons
Price climbs considerably as age increases
Not included in the Affordable Care Act
Pre-existing conditions, routine check-ups, and cancer treatments are excluded from Safety Wing Insurance plans
In addition to the travel medical insurance, SafetyWing also offers Remote Health, an affordable and easy-to-manage health insurance for remote teams. Remote Health is for companies to offer health insurance to their remote employees, both in their home country and abroad, with 175+ countries covered as main residence.
Learn more about Safety Wing travel medical insurance here.
International Health Insurance by Allianz Care
Allianz offers expat health insurance for people who are living and working abroad. For professionals that live and work overseas, Allianz care remains dedicated to providing what you need regarding travel and medical insurance. The plans are flexible and include Covid-19 coverage.
Allianz care gives a customizable approach to their insurance plans for digital nomads, allowing customers to tailor their plans to what works for them, which is super convenient. It's the ability to build your own plan, adding what you do need and leaving what you don't.
Allianz Care Pros
Buildable plans
Covid-19 coverage is included, you do not have to add it
Readily available telehealth
Reasonably priced
Easy to digitally add and track claims
User-friendly interface
Offer for 10% off of your international health insurance for life
Travel security services
Digital health application access
Dental plan
Maternity plan
Allianz Care Cons 
Costs for evacuation because medical conditions are untreatable within your current country are reimbursed instead of paid upfront
Very few cancer screening tests are covered
Pre-existing conditions are not covered
Dental coverage is strict
You can take a look at Allianz expat health insurance here.
Global Medical Insurance® by IMG
IMG offers a plan for people who are living or working outside their home country for a year or more: Global Medical Insurance®.
Global Medical Insurance by IMG offers a year-long (extended) worldwide insurance plan for individuals and families. IMG understands that while it can be super exciting to live globally, the insurance factor is nothing short of stressful. They also offer many underwriting options while keeping your past medical history in mind, which is important to many digital nomads and their families.
IMG makes a promise to deliver exceptional medical benefits, offering their clients complete peace of mind. Of course, like every insurance company, their plans will work well for some travelers and not so well for others, which is completely normal. Let's take a look!
IMG Pros
Long-term plans available
Medical coverage is easily renewed annually
Large range of deductible options, from $100 to $25,000
Limit options range all the way up to $8,000,000
Made specifically for immigrants, travelers, and visitors
Global citizens and digital nomad friendly
Eligibility for all nationalities
Enrollment is super easy and can be initiated online
Lifetime coverage is available as long as you're enrolled by the age of 65
IMG provides a quality guarantee
IMG Cons 
Claims can take quite a while to process
S. Citizens must remain outside of the U.S. (or intend to) for more than 6 months out of one calendar year for eligibility
Precertification is required, and the process can be daunting
You can Quote and purchase Global Medical Insurance here. 
World Nomads
World Nomads is designed by digital nomads for digital nomads, offers specialist travel insurance for people who work remotely while they travel. Traveling is well understood by those that run Worldnomads, as well as medical and travel support when things go wrong no matter where you are in the world.
The coverage they offer regarding Coronavirus varies, so it's crucial to educate yourself on those policies before you obtain their insurance and travel into possible exposure.
Overall, Worldnomads helps you to seek adventure, travel safely and responsibly, and get the health coverage you need while you're working or living abroad. The company is in line with most travel insurances when it comes to what they cover and ways to gain access to their coverage.
Worldnomad Pros
Plenty of coverage is available, ranging from stolen credit cards and delayed baggage to something as serious as assault
Great pricing and it's easy to get a quote
Wide coverage range with many eligible people
Covid-19 coverage
Peace of mind for all things travel-related
24/7 emergency assistance claims team
Fantastic reviews and customer testimonials access
Worldnomad Cons
Contacting customer service is the only way to get in-depth information
Coverage details are not easily accessible
Covid-19 coverage has more restrictions than other companies
Take a look at World Nomads insurance here.
International Health Plan by Integra Global
Integra Global offers an international health plan designed for digital nomads and world travelers and it's fully portable within the region you've chosen (including or excluding the USA and Canada).
The plans are fully comprehensive and quite honestly, offer a ton of coverage. There is quite a bit included, and while plans will differ from situation to situation, there is a ton offered. Integra Global is small and flexible, offering plans to do their best for those they insure.
Integra Global Pros 
Inpatient coverage
Life-aware support
Security and natural disaster services
24/7 emergency assistance
Secure health records
Evacuation services
Plans are extremely comprehensive
No Covid-19 restrictions
Pre-existing conditions are not excluded
Integra Global Cons
Maternity benefits have a 12-month wait period
You can get a free quote here or enroll here.
International Medical Coverage by Cigna
Cigna offers flexible international medical insurance for expats who'll be living and working overseas for a year or longer.
Cigna is a huge and well-known insurance provider. International medical plans through Cigna can be easily tailored to suit your needs, and as far as large insurance providers go, Cigna takes care of the little guy, paying close attention to what digital nomads need to live well when they're abroad.
Cigna Pros 
Super flexible plans meet your medical needs and budget
Care essentials, such as hospital stays, are fully covered depending on your plan
Health care support that extends beyond the physicians' office
Support of Cigna's nurses and physicians
Perfect for employers and families
Global and local networks are extensive
Cigna Cons 
A large company that tries to put customers first but doesn't always succeed
Pre-existing conditions are excluded from all plans
Bonus: International Health Insurance with your Credit Card
Finally, it's worth delving into the small print of your credit or debit card agreement, as some – such as American Express – may include health insurance for travelling, which might just be enough for your needs.
Choosing the Right Healthcare Insurance
Choosing the right international health insurance plan for you and your family as a digital nomad requires a little research. No company is ever going to be perfect, but there will be one that fits well with what you need and want out of your insurance plan.
If you found this article useful you might want to take a look at: 
Disclosure: Any of the links on Remoters.net are affiliate links from which we receive a commission from sales of certain items. We also participate in the Amazon Services LLC Associates Program, an affiliate advertising program designed to provide a means for sites to earn advertising fees by advertising and linking to amazon.com or endless.com, myhabit.com, smallparts.com, or amazonwireless.com.