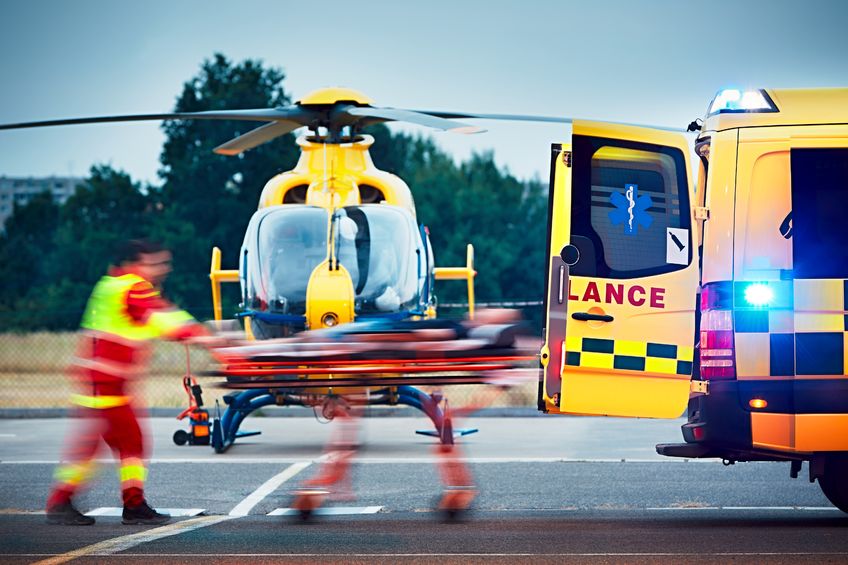 Travelling the world as a digital nomad is an exciting and liberating lifestyle choice, but getting health insurance when you're continually moving from one country to the next isn't always straightforward. In fact, it's one of the hidden costs of going remote.
The thing is, normal travel insurance isn't usually suitable for long-term travellers who frequently move country, and nor is getting an annual health insurance in each individual country, as you won't be there long enough to use it.
And although some health insurance plans also cover you for some travels, so it's worth calling your normal insurer to see if you're already covered for some of your trips, there are also now plenty of international health insurance plans specifically designed for digital nomads that will offer you a much more targeted coverage.
Go to…
1. Why Does Health Insurance Matter for Digital Nomads?
If you're young and healthy, you might assume that health insurance isn't something you need to worry about. That's not exactly the case, though. It's important for everyone, including digital nomads, to make health insurance a priority for the following reasons:
1. Reduce Out-of-Pocket Costs
When you have health insurance, you don't have to pay as much money out of pocket when you're seeking healthcare. You might not be someone who goes to the doctor very often. What about when an emergency arises, though? If you suddenly get sick or injured, you'll likely find yourself wishing you had invested in health insurance to help offset the cost of your care.
2. Take Advantage of Preventive Care
Health insurance also allows you to take advantage of preventive care treatments (such as flu shots, physical examinations, and wellness checks) at a low cost (or no cost at all in many cases). This helps you avoid a lot of health problems or catch them early before they become truly serious.
3. Enjoy Peace of Mind
Having health insurance also gives you peace of mind, which is something that's hard to put a price tag on. When you have health insurance, you can feel confident that you'll be able to afford any healthcare needs that may arise during the course of your travels. This, in turn, may help you to feel more confident venturing out and adopting a legitimately nomadic lifestyle.
2. Criteria to Consider When Shopping for Digital Nomad Friendly Health Insurance
Clearly, health insurance matters. How do you know what to look for when you're shopping for health insurance, though? Listed below are some essential criteria you ought to keep in mind when you're choosing a health insurance plan that fits your needs and lifestyle:
2.1. Premiums
One of the first things you need to consider when shopping for health insurance is the premium. This is the amount of money you'll pay on a monthly or yearly basis for your insurance company to cover you.
Keep in mind that there's more to your insurance plan than the premium. For example, a plan with a low premium may have a high deductible, meaning you have to pay more money out-of-pocket before your insurance provider will chip in.
2.2. Out-of-Pocket Costs
Pay attention to how high your deductible is. You'll also want to take note of other out-of-pocket costs, such as co-pays (the amount of money you have to pay for a specific service) and co-insurance (a percentage of the total cost of your care that you may have to pay). All of these out-of-pocket costs can quickly add up and make an insurance less desirable.
2.3. Prescription Drug Coverage
Find out if the insurance plan you're considering offers prescription drug coverage, too. Many plans do, but it's not required. They also may only cover certain types of drugs, or they may require you to use a lower-tier drug first before they'll pay for a higher-tier option.
2.4. International Coverage
As a digital nomad, there may be times when you're traveling outside of state lines or even outside of the country. It's important to find an insurance plan that will cover no matter where you are.
Look for an international insurance plan if possible. There are many that are designed specifically with digital nomads in mind to ensure they always have coverage.
2.5. HSA Eligibility
A Health Savings Account (also known as an HSA) can be a lifesaver for independent workers and digital nomads. This is a tax-free account that you can dip into to help cover out-of-pocket healthcare costs. If this is important to you, make sure you find an insurance plan that allows you to open and contribute to an HSA.
3. Do's and Don'ts for Choosing Your Digital Nomad Health Insurance
There are some additional dos and don'ts that you ought to keep in mind when looking for a health insurance plan, including the following:
3.1. Do Compare Several Different Plans
Always compare several different insurance plans before settling on one. Don't just choose the first plan that pops up when you begin your search. Dig deeper and learn as much as you can about your options first.
3.2. Do Look Beyond the Premium
Remember to look beyond the premium of a specific plan as well. Pay attention to the out-of-pocket costs and all the other details listed above. Taking note of these details will save you from ending up with a cheap plan that doesn't offer you the kind of coverage you need.
3.3. Don't Try to Cover Things Up
When signing up for a health insurance plan or looking for one that suits your needs, don't try to cover up aspects of your health history. Be honest so you can get the care you need and don't have to face any kind of penalties later.
3.4. Don't Forget the Renewal Date
Finally, be sure to make note of the renewal deadline once you've chosen a health insurance plan. If you let your coverage lapse, you could end up paying more money later.
4. Find Your Perfect Digital Nomad Health Insurance Plan Today
As you can see, there's a lot to keep in mind when you're shopping for health insurance for digital nomads. If you remember these tips, though, it'll be easier for you to find an insurance plan that suits your needs and your budgets. Now, it's time to explore some of the best international insurance plans you might want to consider.  These are some of the top international health insurance plans for digital nomads:
World Nomads
World Nomads is designed by digital nomads for digital nomads, offers specialist travel insurance for people who work remotely while they travel.
Pros
Covers trip cancellation, emergency medical expenses and transportation, tech such as laptops and iPads, and more
24/7 emergency line
Recommended by Lonely Planet, Rough Guides and others
Cons
Only cheaper laptops are covered. More expensive models need to be listed separately as a high-value item, as does camera equipment
Depending on your country of residence, your tech may not be covered in certain situations – see the table here.
Online reports of being slow to settle claims
International Health Plan by Integra Global
Integra Global offers an international health plan designed for people who lead "unusual lives", in particular expats, and it's fully portable within the region you've chosen (including or excluding the USA and Canada).
Pros
yourLife plan covers you for all your routine health checks, vaccinations, eye care, and prescriptions
Includes mental health appointments and preventative care
Available for country or residence outside USA, UAE, HongKong
Upgrade to PremierLife Plan to include hospital accommodation in a private room, dental plan and other extras
24/7 emergency medical assistance and evacuation hotline
Go to any doctor or hospital you choose
Cons
The cost doubles if you want to include the USA
Doesn't include maternity cover, over-the-counter medicines available without a prescription and a number of other exclusions
You can get a free quote here or enrol here.
Global Medical Insurance® by IMG
IMG offers a plan for people who are living or working outside their home country for a year or more: Global Medical Insurance®.
Pros
Choose from Worldwide or Worldwide Excluding the USA, Canada, China, Hong Kong, Japan, Macau, Singapore and Taiwan
Cash incentive and 50% deductible reduction if you get treatment from certain medical facilities outside the USA
Cons
Complex offering is hard to understand, with inclusions and exclusions dependent on the package you choose – see side by side comparison
Basic plans don't include preventative or mental health care
Quote/Purchase Global Medical Insurance®
International Health Insurance by Allianz Care
Allianz offers expat health insurance for people who are living and working abroad.
Pros
Simple, easy-to-understand plan
Submit claims, find hospitals, manage your account and more via a handy app
Includes private hospital room, in-patient/day care, emergency outpatient treatment, medical evacuation, oncology and more
Cons
Outpatient, dental and repatriation plans are optional extras
International Medical Coverage by Cigna
Cigna offers flexible international medical insurance for expats who'll be living and working overseas for a year or longer.
Pros
Three simple levels of cover: silver, gold and platinum ranging from $1,000,000 to unlimited cover
Basic package includes hospital accommodation and treatment charges, intensive care, surgeons' and consultants' fees, transplants, diagnostic tests, local and air ambulance services, cancer care and more
Covers you for up to 90 days back home when you want to visit friends and family
Cons
You'll need to go to a hospital on their approved list
SafetyWing Travel Medical Insurance
SafetyWing was started by Norwegian travelers and entrepreneurs in 2017 as a part of the Y Combinator accelerator program. Their aim was to develop modernized insurance policies that would be in sync with other like-minded, no-frills travelers.
The main incentive of SafetyWing is to provide insurance options that are affordable, with medical coverage to long-term travelers, digital nomads, as well as to freelancers, regardless of where they're situated.
Pros
Coverage starts from $37 for 4 weeks or just $1.32 per day!
Available for purchase in 180 countries and can be purchased while already traveling.
There is no cap on the duration of a trip and no need to pay for all of your insurance up front. You can also specify specific dates and get a quote for your full trip.
The policy is administered by Tokio Marine, one of the largest insurance companies in the world. Always available, offering 24/7 support when a person is in need.
Covers almost every travel destination, and even offers home country coverage.
Young children free: 1 young child per adult (up to 2 per family) aged between 14 days and 10 years old can be included on the insurance for free.
Cons
You need to pay extra while traveling in the United States
There's no coverage for missed flights or stolen electronics
Adventure activities have pretty limited coverage
It's more expensive for those over 40 years of age
In addition to the travel medical insurance, SafetyWing recently announced the launch of Remote Health, an affordable and easy-to-manage health insurance for remote teams. Remote Health is for companies to offer health insurance to their remote employees, both in their home country and abroad.  It is only available to teams of 3+ at the moment.
Bonus: International Health Insurance with your Credit Card
Finally, it's worth delving into the small print of your credit or debit card agreement, as some – such as American Express – may include health insurance for travelling, which might just be enough for your needs.
If you found this article useful you might want to take a look at: 
Disclosure: Any of the links on Remoters.net are affiliate links from which we receive a commission from sales of certain items. We also participate in the Amazon Services LLC Associates Program, an affiliate advertising program designed to provide a means for sites to earn advertising fees by advertising and linking to amazon.com or endless.com, myhabit.com, smallparts.com, or amazonwireless.com.