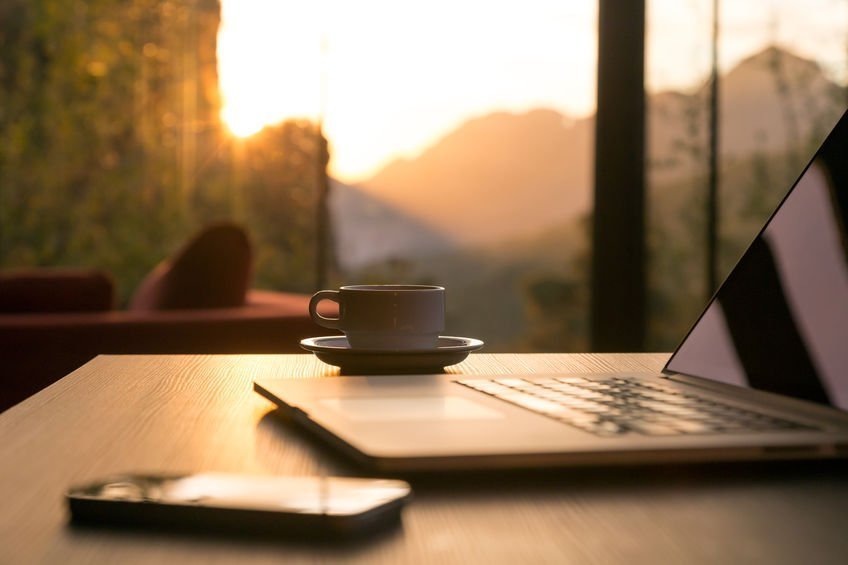 If you've ever met someone who works from home or as a digital nomad, chances are they were a web developer, a web designer, a digital marketer… or working in some tech-related job.
While it's true that remote work has become a huge trend within tech industries, there are also non-tech jobs that allow for that kind of flexibility. So, if you had given up on the idea of telecommuting due to the nature of your profession, perhaps you can go back on your decision and further explore your options.
The following seven jobs aren't tech-oriented, yet they are location independent. Keep reading and you might just find that you have the perfect skills to become a remote based professional:
1.   Accountant
No, being an accountant doesn't have to mean spending 8 hours a day inside a cubicle. It's a role where you don't have that much contact with other people: as an accountant, you're mostly in front of your computer getting your tasks done. So in reality, nothing stops you from working out-of-office and an increasing number of companies are starting to realize that.
The qualifications are typically the same ones you'd see in a job ad for an in-house position. You can also find companies asking for previous experience working from home, but don't let that stop you from applying for your first telecommute job!
Companies that hire remote accountants: Stride, Greenback Tax Services and
2.  Sales
Websites, social media pages, phone calls, home visits… the variety of channels a brand can use to generate sales is huge. And all of these can be done from wherever! There are usually plenty of remote opportunities in sales; however, it helps you have previous experience in the area, as that's the most common qualification that's asked for.
If you don't want to work for a company, you can always take an entrepreneurial route and start your own store on websites like Ebay, Etsy or Amazon.
Companies that hire remote salespeople: InVision, TaxJar and Toggl
3.  Customer Support
Nowadays, many people communicate with brands via their website or social media pages. While a small business can probably handle the messages it gets, once it starts to grow and it probably starts getting a lot more inquiries. That's where remote customer support employees come in handy.
For this type of job, companies usually require applicants to have good communication and problem-solving skills, as they'll be dealing with all sorts of issues and all sorts of people on a regular basis.
Companies that hire remote customer support workers: Gitlab, Zapier and Uscreen
4. Project Manager
Project management is typically considered one of the trickiest positions to do remotely, but that doesn't mean that you won't find any awesome opportunities. Most companies need project managers and with the rising number of fully remote teams, it's clear to see that businesses are learning how to conduct this type of tasks while telecommuting.
For this position, it's ever more essential to show that you can meet deadlines even when you can establish your own schedule, so companies might have a tendency to hire people who have worked remotely. Apart from that, it's crucial to have a good webcam, headphones and mics, since project managers are constantly on meetings.
Companies that hire remote project managers: Bitfinex, Trafilea and Hotjar
5.  Writer/Copywriter
Among all the non-tech jobs that can be done remotely, writing and copywriting are two of the most popular ones. It's easy to understand why: there's really no need for you to be at the office in order to create amazing written content.
While it might be a bit difficult to find a full-time job as a writer or copywriter, there are many content mills (which don't pay great but are a good option for beginners) and digital marketing agencies that hire on a freelance basis. Get a few stable clients and you can 100% write for a living wherever you want to!
Companies that hire remote writers/copywriters:  Aha!, WebFX and The HOTH
6. Language Teaching
While some people still enjoy going to a physical classroom to learn a new language, others prefer to do it online or have to do it because of time or location restraints. This means that language teachers no longer need to work at school anymore, and instead, get the opportunity to teach either a class or one single person through video or call.
For this job, it's essential that you have a good set of headphones with a mic, as communication will be essential. If you're going to do video, a high-quality webcam is also needed. And of course, a reliable internet connection!
Companies that hire remote language teachers: Cafetalk, DaDa and GoFluent
7.  Virtual Assistant
If you've been looking for a remote opportunity for a bit, we're 99% sure you've come across several companies hiring for virtual assistants, or VAs.
A VA can be responsible for a big array of administrative tasks, like social media management, communication with clients and data entry tasks. As it is a very broad role, the qualifications it asks for don't tend to be super specific: being organized, speaking good English and having basic knowledge of CRM are three of the most typical ones.
You can, nonetheless, come across VR job ads that ask for very particular skills – it all depends on the company's needs.
Companies that hire remote virtual assistants: 99 Dollar Social, Sigrid and Zirtual
Remote Work is here to stay!
From 2005 to 2018, there was a 140% increase in the number of remote workers in America. As this type of employment becomes a reality for a rising number of companies, the variety of roles that can be performed out-of-office grows as well. Take a look at our Remote Work Trends.
If you're looking for all types of remote jobs opportunities, take also a look at our Remote jobs board here!
---
If you found this post useful, take a look at