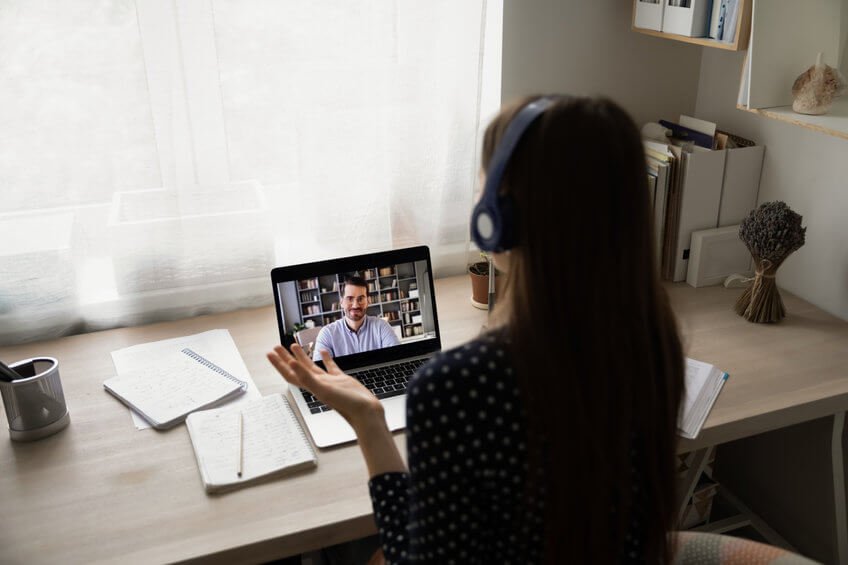 While looking for remote work opportunities, you're pretty likely to hear comments about how convenient it is to work from anywhere you want. Remote jobs conditions tend to be also more flexible too.
However, that doesn't mean that you shouldn't be mindful of them, as well as the specifics of the role characteristics and type of engagement when looking for a new remote role.
It's fundamental to make sure you fully understand the scope of the role, the company culture and how remote communication and coordination is handled, besides the payment and hiring conditions. Asking these questions during a remote job interview will also show your potential future employer that you care and fully understand the role needs, and that there's likely a better match.
Here's a list of fundamental questions to ask when applying for a new remote job:
1. Is It A Fully Distributed Team?
What concern would you possibly have about the work mode of your team members?
Well, it's actually pretty impactful in building a work ethic with the rest of the team, in determining a workflow, as well as figuring out the efficiency of the whole team.
Some organizations run entire teams in remote settings. Some allot a mix of remote and onsite employees on their own. Some others allow employees to pick their version of remote vs. office jobs. These different kinds of arrangements impact how you work as a team. It also affects the overall efficiency because different people are skilled in various modes of work.
2. How Is Communication & Coordination Handled?
This will highly depend if it's a completely remote based or hybrid company.
Each of these settings employs a variety of communication settings. In case there's a whole team working remotely, you'll find a team who's likely to have remote first coordination policies and established protocols when using different tools, and async vs. sync communication.
In case you have a mix of remote and onsite work, you'll probably find that it's harder to get communications into a proper flow during the initial stages, so is fundamental to ask how is this handled and how they make sure that there isn't a "gap" between in-person and remote employees.
It's important to understand how is communication handled, how experienced you are with the tools used, and what's the level of maturity with remote communication within the company.
3. In What Area Will The Role Be And Who Will You Report To?
Where specifically within the company will you work? You should be clear about how the area where you will potentially work is structured (and how does this match with your own preferences).
How many other colleagues doing the same type of work will you have, or would you be the only one doing it? Is your team head also a remote worker? Or are you an outlier reporting directly to higher-ups? How often will you be required to report?
All this will have a direct impact on how demanding the job will be and is fundamental to understand it.
4. How Many Hours Are You Expected To Work?
This is probably the most important of all concerns because working hours in remote jobs are often quite tricky. If you're working from a separate state or country, then the different time zones can pose serious difficulties in setting your work hours.
Also, contrary to popular misconception, remote work doesn't always have flexible working hours.
Instead, the choice between fixed and flexible hours will depend on your job requirements. You'll also need to find out if the timings, as well as the number of hours, are fixed, or if there's only a fixed hour per week requirement. Moreover, who else is going to be available within the same working hours as yours?
5. What Type Of Contract Will You Have: As An Employee Or Contractor?
There are usually two kinds of remote work types:
As an Employee: Being an employee means you are wholly integrated within the organizational framework. You have a proper department, you're a part of a team, and you have to sign the same set of agreements and contracts as regular onsite employees. You'll most probably have fixed hours that will match those of onsite employees.
As a Contractor: Some companies might need to hire remote collaborators as contractors due to legal constraints when hiring abroad, so is important to understand how that impact your conditions and benefits, as well as commitment from the company side. It's then fundamental to ask, discuss and agree on this, and leave it all documented in the agreement to be signed.
6. What Equipment Will You Be Provided To Develop Your Work Remotely?
Even if you have a fully equipped home office, there will still be some things that you will need when taking up a new job. Also, most companies will want you to use their own equipment, providing certain security and privacy conditions. It's then usual that the organization provides at least some, if not all, of the software and hardware equipment for the job.
During your interview, remember to ask about this instead of just assuming and try to negotiate terms if you feel like you may have problems affording your part of the new equipment in case the company doesn't provide one by default.
7. What Are The Benefits Beyond Salary And Equipment?
Whether an in-person or remote employee you will have common company benefits beyond your salary: private healthcare, vacation time, maternity leave, learning expenses, bonuses etc. as well as specific benefits related to your remote work setting: internet expenses, home office allowance, etc. so make sure to ask and verify when you'll have access to these benefits, if it's as soon as you start working or if you need to wait some time.
Having a clear idea of all the possible benefits, you'll be able to reach a decision about saying yes or no to the job.
8. How Will You Be Paid: Currency, method of payment, frequency?
Ask with any job: You need to confirm how much and how often will you be paid. In this case, it's also critical to ask about the currency and method of payment, especially when you will be working from another location from the company HQ.
You should also figure out the mode of transaction. Is it a wire transfer? PayPal? Wise? Lastly, if you're an international employee with currency differences, then be absolutely clear regarding currency conversions, varying rates, and possible compensations.
9. What Are the Growth Opportunities for the Position you're applying for?
Being one of the few remote employees in a still office first company, could mean having a harder time earning the visibility you need for a promotion as compared to onsite employees. So to be clear regarding your future opportunities and the criteria to be used for them.
This question can serve as a flashlight, to check if the role can provide you the growth opportunity you need in the mid or long term, and help you to decide when you need to choose between many.
10. How Is The Position Success Going To Be Evaluated?
How will your work be evaluated? When handing out an employee of the year awards, or even a simple appraisal for a project, there will be many different judgment criteria involved. Some companies have separate evaluation procedures for remote and office employees. Some have a uniform set of rules.
Your department may also have further divisions and success evaluations. Finding out about these various ways of successfully earning yourself a name will help you sort out your career path.
11. What type of Support is Provided To Employees?
As a remote worker, you could face a disconnect from the team. Established remote first or mature hybrid companies set activities for their teams to bond, have watercooler chats or activities, to keep a healthy remote culture and good mental health. Ask if the company has invested and established support systems to engage to help remote employees to thrive as individuals and teams, independently of their location.
12. When Will The Company Make A Decision To Hire?
This question is especially important if you're assessing different alternatives! Don't be shy and ask to make sure the timeline to hire for the position actually fits with your expectation to start working in a new remote role.
Conclusion
Remote working has numerous perks, but only when you have a complete and clear understanding about the scope and conditions, that actually connect with your expectations. Your interview is your best shot at understanding how remote work will be like with a particular company and whether you want it or not. Using this extensive list, you'll be able to get the most out of your interview and plan your road ahead without any unpleasant surprises!
If you liked this article, check out: