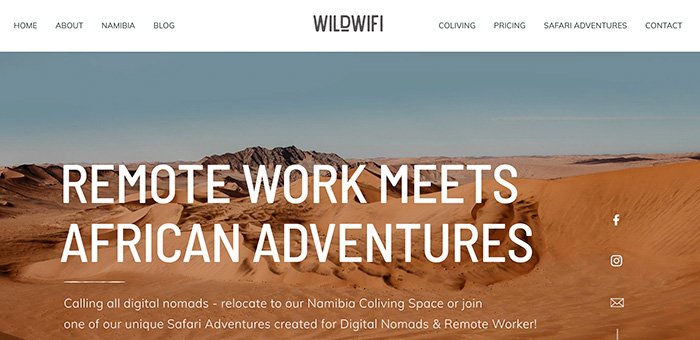 Website: https://wildwifi.co
Event Type: Long Term Retreat
Event location: Windhoek, Eros District – Namibia
Event starting date: 2021-11-01
Event end date: 2021-12-31
Price of the Event: From 490 Euros
Organizer Name: WildWifi
Event language: English
Join the very first coliving adventure that takes place in Namibia – a unique adventure for digital nomads and remote workers.
We will live in Windhoek, the capital of Namibia, in a huge accommodation with a sun-heated pool, 60 MB fiber internet, timezone comfort as it corresponds to the central European time, and endless sunny days.
Our accommodation includes a coworking space and a lot of space to escape while having client calls. During the week we meet up with locals, have BBQ nights, Skill-Sharing nights, or go to Bars, Coffee Shops, and nice restaurants in the City Center.
We finish our hard week of work, with adventurous weekend getaways! Instead of boring beach days, we go camping in the wilderness and explore the vastness of Namibia.
We end our coliving with a big bang – if you want you can join a 12 days special Christmas and New Year safari tour with the whole community!
You can choose whichever option suits you – you're welcome to stay for the whole of November plus December or book one month and stay either November or December.
Current Edition
No reviews yet.
Please add your comment sharing more about why you would recommend this event or not and how could it be better?