Name: World Nomads
Web: World Nomads
Category: Insurance
World Nomads Insurance: A review for Digital Nomads and Long Term Travelers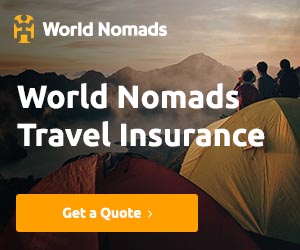 If you're reading this, you likely fall into one of the following categories. You're a frequent traveler who is curious about World Nomads travel insurance, you're already a digital nomad who is currently traveling without insurance, or you're a digital nomad who has insurance but maybe looking to switch to something better.
Travel insurance is a must for many reasons. It protects your investment, helps with overseas medical bills, and it keeps your travel goals alive when something that wasn't planned hits you when you're away.
We're conducting a World Nomads Insurance review here, and by the end of this, you'll have a complete understanding of what it is, what the benefits are, and why you should have it. Let's get to it!
World Nomads Insurance Review
The insurance is essentially what it says. It's travel insurance for independent nomads and families. It's designed explicitly by travelers for travelers to cover everything you could think of as it relates to traveling overseas.
What does it cover?
Keep in mind that travel insurance covers everything you could do. For example, if you're traveling to a place where you might experiment with new activities, here are some that are covered:
Bungee jumping
Canyon swinging
Canyoning
Dirt boarding
Indoor rock climbing
Kiteboarding
Parasailing
Skateboarding
Trampolining
If you are planning to spend most of your time on land, you might run into some of the following activities on your trip:
ATVs
Backpacking
Camping
Camel riding
Land surfing
Mountain biking
Rollerblading
Safari tours
Tree climbing
Motorcycling
Sandboarding
Hiking
These are only some of the things that are covered with World Nomads Travel Insurance. There are many more options on the website.
It's essential to have coverage for everything you do because you never know what can happen. Much of the time, you'll have to sign waivers to do these activities so you won't have any protection if something goes wrong. When you have travel insurance, you're covered.
What are the benefits?
Now let's talk about the cash value on some of these benefits. There are four primary things you'll worry about when traveling abroad.
Having to cancel your trip and losing the investment
Unexpected medical costs while traveling
Emergency medical transportation
Loss, damage, or theft of expensive gear
All four of these issues are covered and more. Let's take a look.
World Nomads Travel Insurance protects you if you run into an unexpected cancellation. The standard plan covers up to $2,500 of your money when you cancel. If you upgrade to the explorer plan, they will cover as much as $10,000.
If you're a digital nomad, the world is your home, and you may hop around from place to place frequently. For this reason, you need to have traveler's insurance at all times to cover you across all borders.
Both the standard and explorer plan offers $100,000 in medical and dental coverage while traveling the world.
Emergency evacuation
If you need to get evacuated from a travel experience or even the entire country, you're covered as well. The standard plan will pay out up to $300,000 to get you to a hospital or back home. The explorer plan covers up to $500,000 in expenses.
Finally, if you're a digital nomad, you might have expensive cameras, drones, and other equipment you use to maintain your lifestyle. Anti-theft backpacks aren't enough to keep you safe. The standard plan covers up to $1,000 worth of gear, and the explorer plan covers up to $3,000.
In addition to these primary benefits, World Nomads also covers the following:
Emergency accident and sickness medical expense
Repatriation of remains
Trip cancellation or interruption
Baggage and personal effects
Baggage delay
Rental car damage
Accidental death and dismemberment
No matter where you are in the world, World Nomads is available 24/7 to assist you with your medical emergency, travel assistance, or evacuation. They provide multiple contact points to get you the help you need.
Why Is World Nomads Beneficial for Digital Nomads and Long Term Travelers?
We've talked about this a little, but let's break it down in more detail. Travel insurance is not an option for digital nomads. Think of it like having insurance on your house because your home is everywhere. When your main belongings are whatever you carry in a suitcase, you need to protect it at all costs.
You spend a lot of money planning and putting down payments on flights, so travel insurance will cover some of those expenses if you have to cancel for some reason.
When you're exploring and experiencing everything life has to offer, anything can happen. Let's say you're involved in a motorcycle accident on the Amalfi Coast. The foreign medical facility will not accept your US insurance, and they will also likely require payment upfront.
World Nomads insurance may even be able to provide you with money upfront to pay for the treatment.
World Nomads Insurance Review: Compared
Now let's see how World Nomads stacks up to some of the other popular travel insurance companies.
This company structures its benefits a bit differently, and they offer a maximum plan benefit based on three different packages.
Care – Max $675,000
Care Plus – Max $1,518,750
Care Pro – Max $3,037,500
Let's break down some of the benefits of the "Care" plan.
You get hospital accommodation in a semi-private room, which includes intensive care, prescription drugs, surgical fees, physician fees, diagnostics tests, accommodation costs for one parent, which a child under 18, local ambulance, and more. In addition to standard medical benefits, they offer Expat Assistance with counseling, legal, and financial support.
The problem with Allianz's insurance is that it focuses entirely on medical benefits and doesn't cover your equipment, travel expenses, or emergency evacuation from the country.
They offer travel medical insurance, international health insurance, and travel insurance.
The travel medical is for individuals, families, and groups, and it has limits ranging from $50,000 to $1,000,000. It covers all medical expenses, evacuation costs, and repatriation.
The international health coverage is more of what a digital nomad would look for. This will cover you when traveling long-term from country to country. They offer rolling one-year insurance coverage with deductibles ranging from $100 to $25,000.
Finally, the travel insurance will cover domestic and international destinations with up to $50,000 per person for trip cancellations. It also offers:
Trip interruption benefits up to 150% of the cost
$500 for travel delay
$500,000 for emergency medical evacuation
Get a quote
Fill in the form below and World Nomads will give you directly the price for your travel insurance.
Final Thoughts
Now that you've made it through our World Nomads Insurance Review, what do you think? If you're currently traveling and you don't have traveler's insurance, you need to look into World Nomads right away.
They have individually catered plans customized to meet your needs no matter where the adventure takes you.
Disclosure: Any of the links on Remoters.net are affiliate links from which we receive a commission from sales of certain items. We also participate in the Amazon Services LLC Associates Program, an affiliate advertising program designed to provide a means for sites to earn advertising fees by advertising and linking to amazon.com or endless.com, myhabit.com, smallparts.com, or amazonwireless.com.
All of the information provided about travel insurance is a brief summary only. It does not include all terms, conditions, limitations, exclusions and termination provisions of the travel insurance plans described. Coverage may not be available for residents of all countries, states or provinces. Please carefully read your policy wording for a full description of coverage.
No reviews yet.
Please add your comment sharing more about why you would recommend this tool or not and how could it be better?
Other similar tools in Insurance
| Tool | | Description |
| --- | --- | --- |
| | PassportCard Nomads | PassportCard Nomads provides global health and travel insurance tailored for nomads. It offers a worldwide... |
| | Travelex Insurance Services | Travelex travel insurance provides protection for travelers on most types of trips, from weekend getaways... |
| | iati Travel Insurance | Travel and health insurance policy that offers many options to suit many types of trips:... |
| | IMG Travel Insurance Review | A review of the specific travel insurance packages offered by IMG Global for remote workers... |
| | SafetyWing | Health insurance for remote companies. And Travel medical or Health insurance for individuals. |