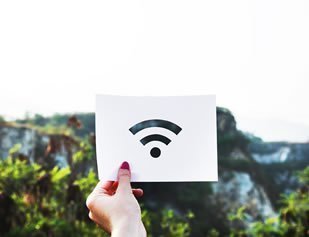 The great thing about the digital nomad lifestyle is that all you need is a laptop and WiFi connection and you can work from wherever you are.
The laptop bit is easy enough – but what about a reliable and secure Internet connection when traveling the world?
There might not always be a suitable cafe with internet you can use or offering good enough WiFi for a conference call or send big files, and there may be times that you might want to access from a more isolated place from where you might be more comfortable working from, instead of a cafe or a temporary coworking space… ideally, you want to have Internet with you all the time.
A good, reliable, secure connection that allows you to work on the go independently on the country you are, with a reasonable price is critical for a digital nomad. A great option is 'MiFi' – internet via a mobile hotspot.
Let's take a look at some of the best Mobile Hotspots alternatives in the market:
1. Skyroam Solis
Skyroam
is a clever device that gives you mobile internet access in 130+ countries without the need to buy a sim card each time you travel to a new country.
Pros
WiFi Anywhere: Connect locally & in 130+ countries
Secure, Fast data: Encrypted network, 4G LTE speeds
Flexible WiFi plans: WiFi by the Day, Month or GB. No contracts
Share on 10 devices: Connect your laptop, phone, tablet, or share with others
Easy and transparent: No SIMs, simple design, patented vSIM technology
Fast 4G LTE WiFi Starting at 5€
Cons
Day passes cost €8, so it's more expensive than a fixed connection or getting WiFi from a cafe (but still cheaper than data roaming)
The connection may not be fast enough to stream video content
See Skyroam's reviews and analysis for further information.
2. GlocalMe G4 4G LTE
GlocalMe G4 is the upgraded version of G3, is a smart touchscreen device that
helpfully doubles up as a power bank.
Pros
No SIM necessary as it uses special Cloud SIM technology to find and connect to the best network available
Also has two SIM card slots in case you want to use it as an unlocked WiFi device – great if you find a cheaper deal with a local SIM
4G high-speed internet
Free roaming in over 100 countries
15-hour battery and doubles as a power bank so you can charge your devices
Connect up to five devices at a time
1GB initial free data and then manage your data through an app
Pay-as-you-go for what you need, with 1GB data packages starting at €5
Cons
The device itself is on the pricey side, at around $150.
3. TP-LINK M7350 V4 4G LTE MiFi
A more affordable option is the TP-LINK M7350 V4, priced at around $140.
Pros
Fast download speeds so you can stream HD movies, download files quickly and use video chat
Works in most countries
Connect up to 10 devices at a time
Screen displays useful information such as battery life remaining, data usage, signal strength and number of devices connected
Micro SD card slot enables you to store up to 32 GB
Cons
Needs a 4G SIM card, so you'll need to buy one locally in each country you visit
Battery life of 8 hours at full capacity, but you can recharge it by connecting it to your laptop
4. TravelWifi (or Tep Wireless)
TravelWifi offers travelers in Europe mobile hotspots for digital nomads that value customer service. Their services are also available worldwide. And you can rent one or buy the Teppy".
Travelwifi, Tep Wireless & Sapphire are Now one brand: Travelwifi.
Pros
The Travel Wifi service offers pricing packages that make sense for your location
You can gain access to coverage and connectivity in more than 100 countries
European options include speeds of up to 5G which makes their services very attractive when the rate is an issue
Locations outside of Europe can achieve speeds of up to 4G
Travel Wifi carries a reputation for responsive customer service and international accommodation
There is no speed throttling if you are traveling within France since they are based in this specific geographic market
Cons
You can't purchase their mobile hotspot device; it must be rented
If you are requesting their services outside of France, shipping rates will markedly increase
Your speed will throttle to 256K if you reach your daily limit which can really slow things down where speed is critical
See TravelWifi's reviews and analysis for further information.
5. Keepgo
Keepgo works with existing mobile devices as long as they are unlocked. Prepaid data is sold by the gigabyte for added flexibility.
(Get 10% off with the Coupon Code remoters.net)
Pros
Keepgo recently reduced their cost of services in August 2019 which makes them responsive to the needs of the market
They offer free shipping on all of their mobile hotspots to 38 different countries
Price points are right on the nose at $99 for mobile hotspots and $49 for SIM cards
Data is bundled for flexibility with prices starting at $26 per gigabyte
Keepgo can provide you with customer service when you need it most – 24/7 via live chat or telephone
Cons
They currently do not offer unlimited data plans to the market which can be an issue for budget-conscious consumers.
You must purchase a mobile hotspot device since they do not provide rentals.
See KeepGo's reviews and analysis for further information.
6. Roaming Man
Roaming Man offers a considerable coverage network in more than 130 countries that requires no more than a daily, flat-rate commitment.
Pros
Roaming Man offers a super simple flat-rate pricing solution that starts at $7.99 per day for travel in North America, Asia, and Europe
While users predominantly rent devices for a low rate, you can purchase a compatible mobile hotspot for $149.99
You can access mobile hotspot coverage in more than 130 countries
Their rental devices can accommodate up to five connected devices
A single hotspot charge can last for more than twelve hours
Cons
Your 4G speeds are throttled if you exceed more than 500 MB of use in a single day to 256K
Services are limited in that you can't add additional data to your account if you exceed the 500 MB 4G limit
Roaming Man requires you to rent their devices
The minimum rental period is five days
See Roaming Man's reviews and analysis for further information.
7. Google Project Fi
Google Project Fi (Get a $30 credit to your Google fi account here) is a powerhouse brand that offers digital nomads and entrepreneurs the opportunity to have the most comprehensive coverage in more than 200 countries on their cellular-connected devices.
Pros
Most substantial coverage on the market in terms of cellular connectivity
Since you pay by the gigabyte, 4G speeds are never throttled
Flat rate services fees that start at $10 per gigabyte of data
Unlimited plans are available at a low price point beginning at $60 per month
You are guaranteed the fastest possible speeds for the particular country you are traveling in
Cons
You can't access their services via mobile hotspot
Access to Google Fi can only be accomplished through specific devices
If you are going outside of the United States, you are charged a rate of $0.20 per minute if you exceed your plan
8. Your Mobile phone with Roaming or a Pre-Paid Sim Card
Of course, mobile hotspot devices aren't the only option for accessing the internet while you're abroad. You could invest in a phone with dual sim card slots and simply buy a local sim card for each country, enabling you to use your phone as a hotspot device wherever you are.
Alternatively, you could set up an international data roaming plan with your current provider; just make sure you read the small print carefully to avoid running up large bills!
If you found this article useful you might also like:
Disclosure: Any of the links on Remoters.net are affiliate links from which we receive a commission from sales of certain items. We also participate in the Amazon Services LLC Associates Program, an affiliate advertising program designed to provide a means for sites to earn advertising fees by advertising and linking to amazon.com or endless.com, myhabit.com, smallparts.com, or amazonwireless.com.